Harbhajan Singh apologizes unconditionally on Instagram post containing Bhindranwale's picture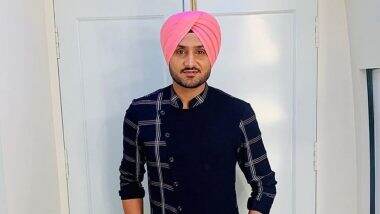 Harbhajan Singh (Photo Credits: Instagram)
New Delhi: Veteran Indian off-spinner Harbhajan Singh on Monday tendered an unconditional apology in a social media post in which he shared a picture of Khalistani terrorist Jarnail Singh Bhindranwale. Harbhajan posted this picture to pay tribute to those killed in 1984's 'Operation Bluestar'. The 40-year-old off-spinner said that he shared a picture on WhatsApp on the 37th anniversary of the operation without realizing that it contained a picture of Bhindranwale.
Harbhajan wrote on Twitter, "I want to clarify and apologize for an Instagram post yesterday. It was a 'WhatsApp forward' which I hastily posted without understanding what it meant. The spinner, who took 417 wickets in 103 Tests for India, said, "It was my fault which I accept, and at no level do I endorse the views of the post or the people whose picture was in it." . I am a Sikh who will fight for India and not against India.
He said, "I apologize unconditionally for hurting the sentiments of the nation. I neither support any group against my countrymen nor will I ever." I have shed blood and sweat for this country for 20 years, I will never support anything which is against India. 'Operation Bluestar' was a military operation conducted in 1984 to flush out terrorists from the Golden Temple.
(This is an unedited and auto-generated story from a syndicated news feed, likely not modified or edited by the latest staff)
ICC WTC Final 2021: Who will open the innings for India in the WTC final? Competition increased after KL Rahul's superb six, watch video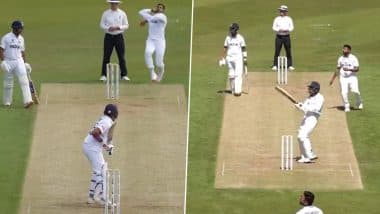 A scene from the intra-squad match (Photo Credits: BCCI)
London, 13 June: Indian players are playing an intra-squad match among themselves in Southampton, ahead of the final match of the ICC World Test Championship 2021. In this match, where Indian captain Virat Kohli is leading one team, the other team is commanded by 29-year-old veteran Karnataka player KL Rahul. Rishabh Pant and Shubman Gill batted brilliantly for Kohli's team, where he scored a century and a half-century respectively. While bowling, Ishant Sharma got three successes while bowling well.
After this, when the other team came to bat in the field, the captain of the team KL Rahul also appeared in good touch. In a video shared by the BCCI, it can be seen that Rahul is hitting a brilliant six off the country's experienced spinner Ravindra Jadeja. Apart from this, Umesh Yadav was also seen bowling brilliantly. At the same time, Rohit Sharma also practiced batting. On behalf of Virat Kohli's team, Rishabh Pant took over the responsibility of wicketkeeping.
Highlights from Day 2 of the intra-squad match simulation here in Southampton#TeamIndia pic.twitter.com/Tm6RrQ4nnd

— BCCI (@BCCI) June 13, 2021
Also Read – Ind vs SL 2021: Sony Sports releases Sri Lanka tour schedule, BCCI not yet confirmed
Talking about Team India's schedule on the England tour, the team will start the tour with the final of the ICC World Test Championship. The final match of the WTC will be played in Southampton from 18 to 22 June. After this, the team will start the Test series against England from August 4. First Test match in Nottingham from 4 to 8 August, Second Test at Lord's from 12 to 16 August, Third Test in Leeds from 25 to 29 August, Fourth Test at Kennington Oval from 2 to 6 September and Fifth Test from 10 to 14 September Will be played in Manchester.
WWE Superstar John Cena shared Virat Kohli's picture on social media, fans gave their reaction in this way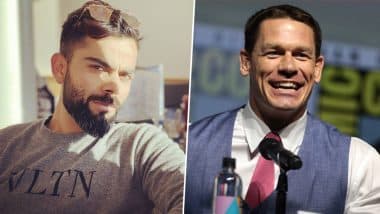 John Cena and Virat Kohli (Photo Credits: FB/ Wikimedia Commons)
New Delhi: Indian cricket team captain Virat Kohli is all set to lead Team India in the final of the World Test Championship (WTC). Under his leadership, he is desperate to win India the biggest award in red-ball cricket. Meanwhile, WWE Superstar John Cena (John Cena) shared the picture of Virat Kohli with his social media account. In this photo, Virat is standing holding the bat. More than 4 lakh people have liked this photo within a few hours. Afghanistan leg-spinner Rashid Khan gave a big reaction to captain Virat Kohli's batting, said these things
Let us tell you why John Cena shared this picture, it could not be known. Because he has not written any caption with the picture as usual. It is believed that this photo was taken during the 2019 match. Cena often does not write captions with the picture and leaves the responsibility of understanding it to the followers.
John Cena may not have given the reason for sharing Virat Kohli's picture, but the fans are very happy and are starting to speculate. Most of the comments were made regarding that Cena would support Team India in the final of the World Test Championship against New Zealand from June 18. Fans believe that John Cena has also shared this picture to support Virat Kohli.
Having followed the 16-time world champion John Cena for more than a decade, he will be well aware of the famous catchphrase "You can't see me" from the Doctor of Thuganomics.
John Cena shared a picture of Virat Kohli on social media even before the semi-final between India and New Zealand in the 2019 ODI World Cup. Team India had lost the semi-final match. But in the final of the World Test Championship, Team India has a good chance to avenge the defeat that it got two years ago.
Confident of getting double digit medals in Olympics despite challenges of Corona era: IOA President Batra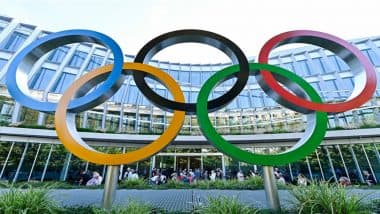 Commonwealth Games/Commonwealth Games (Photo: IANS)
New Delhi, June 13 : Despite the players' preparations being disrupted due to the Corona pandemic, the cancellation of many qualifying tournaments and not getting more opportunities to play at the international level, Indian Olympic Association President Narinder Batra is hopeful that the Tokyo Olympics. India 's medal tally will be in double digits and he also said that no Olympic going player has any mental health problem .
In this era of Corona, in almost every game from cricket to football, the issue of mental health of the players living in the bio bubble has been a topic of constant discussion. In a conversation with Batra, Batra said, "The circumstances arising out of the Corona period are the same for all over the world but the players have faced it firmly. Also read: COVID-19: 10 new cases of Kovid-19 in Andaman and Nicobar, one death
They are practicing with positivity and now the competition is waiting. Till now we have not heard anything that any of our sportspersons going to play Olympics have to face any mental health problems.