Happy Birthday Sonam Kapoor: Sonam Kapoor is husband Anand Ahuja's favorite wallpaper, see these stunning photos of the couple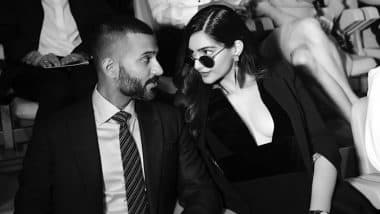 Anand Ahuja and Sonam Kapoor (Photo Credits: Instagram)
Happy Birthday Sonam Kapoor: Bollywood actress Sonam Kapoor has turned 36 today. Today, on the birthday of the actress, her fans from across the country and the world are sending her birthday wishes on social media. On this special day of Sonam, her husband Anand Ahuja is also seen showering a lot of love on her. Anand has congratulated the actress on her birthday by sharing a special post.
Anand has posted his monochrome photos with Sonam on Instagram, in which both of them are seen in candid style. In this photo, Sonam is seen talking to Anand. While sharing these pictures, Anand told that this picture is his wallpaper. Anand wrote in the caption with this, "I know how much you love wallpapers – by the way you are the wallpaper I need! Happy Birthday Merry Forever Wallpaper."
After reading this post of Anand, Sonam also laughed and commenting on it wrote, "Hahahaha…Love you so much." On Sonam's birthday, her father Anil Kapoor also congratulated his dear daughter in a very special way.
Also read: COVID-19 Scare in India: This is how Sonam Kapoor will help people struggling with the problem of hospitals, oxygen and medicines (Watch Video)
Sharing memorable childhood pictures of Sonam, Anil wrote, "To the girl who chases her dreams and listens to her heart…Sonam Kapoor. Watching you grow up as a parent is a no-brainer. Was nothing less than a dream. I've definitely got the best kids. Team gets stronger when time comes and moves with the times and be humble too. You have a fine art to leave a mark of belonging in everything and that's what I love is."
Anil further wrote, "I am extremely happy that you and Anand are healthy and safe. Can't wait to meet you. Happy birthday Sonam son. Love you and miss you." Commenting on this post, Sonam wrote, "Love you so much daddy. Missing you a lot."
KRK's message on Disha Patani's birthday- 'You look terrible with old actors'
Mumbai. Friends, let us tell you that Bollywood actress Disha Patani has a birthday on June 13. She made her Bollywood debut with 'Dhoni: The Untold Story' opposite the late actor Sushant Singh Rajput. Friends, the actress is getting congratulations from all sides on the occasion of her birthday. Many celebrities have wished Disha a birthday through social media.
Friends, let us tell you that film critic and actor Kamal R Khan has also wished Disha Patani on her birthday. Along with this, friends have also given a message to the actress about her work and once again in gestures, have also tightened up on Salman Khan's 'Radhe: Your Most Wanted Bhai'.
Friends, let us tell you that in the tweet, Kamal Rashid Khan has also given a message to Disha Patani's 'Baaghi 2' co-star and roomy boyfriend Tiger Shroff. He has written in his tweet friends- 'Dear Disha is not known Disha Patni, wishing you a very happy birthday. Friends, you look terrible with old actors. So please work only with Tiger. However, in this tweet, Kamal R Khan has not named anyone other than Disha and Tiger.
.
RIP Sushant Singh Rajput: The journey of Sushant Singh Rajput with Ankita Lokhande in a four and a half minute video, the actress shared on her death anniversary
Sushant Singh Rajput and Ankita Lokhande (Photo Credits: Instagram)
RIP Sushant Singh Rajput: Today is the death anniversary of Bollywood's well-known actor Sushant Singh Rajput. On this day in 2020, Sushant had said goodbye to this world. Today, on his death anniversary, all his fans and fans are demanding justice for him. People are remembering the actor today by running many hashtags in the name of Sushant on Twitter.
Sushant's ex-girlfriend Ankita Lokhande has posted her video on social media today, in which she has presented her life journey with her. In this four and a half minute video posted by Ankita on Instagram, she has presented a show reel of pictures of herself and Sushant, in which their memorable moments have been shown.
Posting this video on Instagram, Ankita wrote, "June 14, this was our journey. Then you will meet, let's go." Millions of people are watching this video of the actress and are expressing their feelings for Sushant while commenting on it.
Also read: On the first death anniversary of Sushant Singh Rajput, these famous actors of Bhojpuri cinema paid tribute, got emotional on social media
It is worth noting that recently Ankita Lokhande took a break from social media, but just a day before the death anniversary of the late actor, she posted a video making her comeback in which she was seen performing Havan and worship at home.
Kirron Kher Birthday: Kirron Kher's property is double that of Anupam Kher, know everything till car collection

Actress, MP and Anupam Kher's wife Kirron Kher is celebrating her birthday today (June 14). He started his career in 1983 with the Punjabi film Asar Pyaar Da. In the year 1996, he worked with Amrish Puri in 'Sardari Begum', which was also very popular.
Apart from films, Kirron Kher has also worked in TV serials. He also acted in serials like 'Isi Bahane' in 1988, 'Gubbaare' in 1999 and 'Pratima' in 2004. She married Anupam Kher in 1985. This was the second marriage for both of them. Anupam Kher first married Madhumalti and Kirron Kher first married Gautam.
Kirron Kher is richer than husband
Kirron Kher was elected MP from Chandigarh in the 2014 and 2019 Lok Sabha elections. In the affidavit, he said that he has assets worth Rs 30.88 crore. Kiran has movable assets worth Rs 16.97 crore and immovable assets worth Rs 13.91 crore.
At the same time, the total assets of Anupam Kher are 16.61 crores. Kirron Kher has a Mercedes Benz car worth Rs 61.08 lakh. At the same time, he also has gold jewelery worth Rs 4.64 crore.