Happy birthday: From forcibly kissing Rakhi to human trafficking, Mika Singh's name has come in these top controversies
Mika Singh has turned 44 today (June 10). Apart from singing, if there is one thing Mika Singh is known for, it is his many controversies. His name has cropped up on several occasions. Here we are going to tell you about some of his controversies.
Kissing Rakhi Sawant at her 2006 birthday party
In 2006, during Rakhi Sawant's birthday party, a video went viral in which Mika purportedly kissed her without Rakhi's consent. This controversy was making headlines for several days.
caught with forex
In 2013, Mika was arrested at the Mumbai International Airport for carrying Indian and foreign currency over the limit. According to reports, he had 12 thousand dollars and 3 lakh rupees in cash.
bump into
Reportedly in 2014, Mika rammed an auto-rickshaw while driving, injuring its passenger.
When did Bipasha kiss me?
In 2014, after visiting the sets of 'Comedy Night with Kapil' with Bipasha Basu, Mika Singh shared a kiss mark on Twitter saying that Vipasha kissed me. Bipasha denies this and it is later revealed that Ali Asghar, who plays Dadi in the show, actually kissed her.
slapping the doctor
In 2015, a video of Mika slapping a doctor at a live concert in Delhi also went viral. According to reports, a small hole was left in his ear due to the attack. The Indian Medical Association later demanded his arrest. Meanwhile, Mika had justified his action by saying that "he lost his cool after the doctor misbehaved". In 2016, the doctor withdrew his case after settlement.
human trafficking
In 2018, Mika's name had cropped up along with his brothers Daler Mehndi and late Shamsher Singh in a 2003 human trafficking case. A complaint was filed against him for taking money from people on the pretext of helping him travel abroad illegally. The singer had denied the allegations.
Bell Bottom: Akshay Kumar's film 'Bell Bottom' will knock in theatres, the actor shared the video and told the release date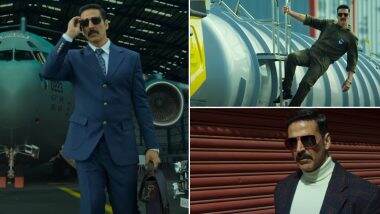 Akshay Kumar in the movie 'Hell Bottom' (Photo Credits: Youtube)
Akshay Kumar Movie 'Bell Bottom' to Release in Theaters: bollywood players Announcing today, Akshay Kumar said that he is going to release his film 'Bell Bottom' in theatres. The actor announced today via social media that the film will be released in theaters on July 27, 2021.
Akshay Kumar has shared his video on Instagram announcing the release date of the film in an interesting way. Posting this, Akshay wrote in the caption, "I know you all are eagerly waiting for the release of Bell Bottom. Glad to announce the release date of our film. It will hit the big screens worldwide. Releasing on July 27."
Also read: Bell Bottom Teaser: Fans were impressed by Akshay Kumar's style and exciting style, see the first teaser of 'Bell Bottom'
Akshay Kumar starrer 'Bell Bottom' is a spy thriller film in which Vaani Kapoor, Lara Dutta and Hum Qureshi are also present in the lead roles. The film is directed by Ranjit M Tiwari. Apart from this film, Akshay Kumar will be seen in 'Bachchan Pandey' and 'Atrangi Re'.
Opportunity to stay in Sushant Singh Rajput's sea view flat! will have to pay so much rent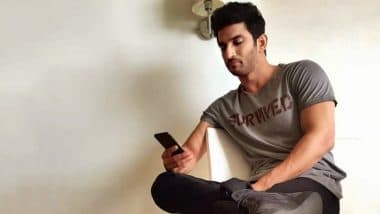 Sushant Singh Rajput (Photo Credits: Instagram)
Sushant Singh Rajput Apartment Available for Rent: Sushant Singh Rajput's Sea View flat in Bandra is being rented out. For this, the interested person will have to pay a rent of Rs 4 lakh per month. Sushant had rented this apartment in December 2019 for Rs 4.5 lakh. Giving information about this, a celebrity broker said that it has been announced to rent this apartment but it is yet to get it as a tenant.
In the E-Times report, the property broker said that due to the Corona epidemic, not many customers have come for it. However, whoever came to inquire about renting it also talked about Sushant Singh Rajput. Reality firm informed that this flat of Sushant is best for artistic people. Located close to the sea, this apartment is also good for those who have come to Mumbai for work.
Sushant had rented this apartment named Mont Blanc for 36 months and he was going to live here till December 2022 with Riya Chakraborty, his friend Siddharth Pithani and his two servants Keshav and Neeraj. Sushant was found dead in his bedroom on June 14, 2020. In this case, the actor's friend Siddharth Pithani is in judicial custody regarding the drugs case.
Kangana reached Bombay High Court due to international travel, know the whole matter
Bollywood actress Kangana Ranaut remains in the discussion about her statements more than her work. A big news has come out about Kangana as the actress has reached the Bombay High Court demanding renewal of her passport. According to the information received, Kangana, while filing an application in the court, said, "The Passport Authority is objecting to the FIR lodged against her by the Bandra Police regarding the heinous tweet and sedition."
His sister Rangoli Chandel is also an accused in the case. Let us tell you that Kangana has written in her application, "Since she is an actress, she has to travel internationally from across the country for professional meetings." Kangana has also informed that "She has to shoot a film in which she has a lead role. For which he has to travel to Budapest from June 15 to August, 2021. His passport will expire in September 2021. Due to which they have to renew their passport. But the sedition case registered against him is adding to his troubles."
On the other hand, no response has been received from the High Court in this matter so far. It is not yet decided whether Kangana's passport should be renewed or not. Bollywood tigress Kangana Ranaut is soon going to be seen in films like Dhakad and Tejas and she is busy shooting for these films.
.