Gurmeet Ram Rahim: Honeypreet did not get permission to look after Dera chief Gurmeet Ram Rahim, hospital changed its decision after controversy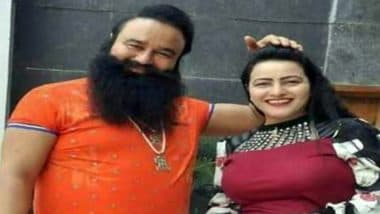 Ram Rahim and Honeypreet (Photo Credits Instagram)
A day after Honeypreet was allowed to become the attendant of Dera Sacha Sauda chief Ram Rahim, his card was canceled by the Medanta Hospital here after Rohtak police objected to their meeting. Security has been beefed up in the hospital as the intelligence department of Gurugram Police has warned of devotees gathering there and creating a ruckus. A total of 12 Rohtak Police have been deployed on the ninth floor and 55 Gurugram Police personnel are guarding the entire hospital. Also read: Dera Sacha Sauda chief Gurmeet Ram Rahim Singh is Corona positive, serving sentence in jail in rape case
It is worth noting that Rohtak Police has objected to the meeting of Honeypreet, a close aide of the Dera chief, and his help. Ram Rahim's RT-PCR test has come Kovid negative. They had been insisting on meeting Honeypreet from day one and within hours of her admission to the hospital, she was allowed access to the patient and given an attendant card which was valid till June 15.
He is a prisoner who can do anything, whether he is harming himself or planning an escape. It can be dangerous to let him meet Honeypreet on this occasion. We have told the hospital authorities that if he meets anyone other than doctors and there is any problem, he will be held responsible," said a senior police officer.
JP Nadda answered Congress leader P Chidambaram's questions on record vaccination, said- India is not running lame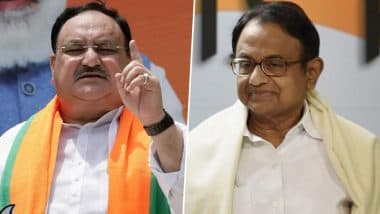 New Delhi: Bharatiya Janata Party President J.P. Taking a jibe at former Union minister P. Chidambaram for his remarks on the pace of vaccination, Nadda on Wednesday said India is not lame, but is running on the strength it has drawn from its citizens. Quoting Chidambaram's tweet, Nadda said, "India is not lame, but running on strength from its citizens. After the record set on Monday, there have been more than 50 lakh vaccinations on Tuesday and Wednesday also. The figures are enough to dislike the Congress. Actually, it is the culture of the Congress that when India makes a record, the party raises questions.
It is worth noting that earlier this month also former Finance Minister and Congress leader P. Chidambaram had accused the Center regarding the vaccination policy. However, he withdrew his statement after some time. Chidambaram had targeted PM Modi over the revised vaccine policy. P. Chidambaram tweeted, "Hoarding on Sunday, vaccinated on Monday and come back limping on Tuesday. This is the secret behind the world record of one day vaccination. I am sure this feat will find a place in the Guinness Book of Records.
Chidambaram taunted in the next tweet, "Who knows, maybe, the Nobel Prize in Medicine should be given to the Modi government. Modi hai to mumkin hai, should be read now, Modi hai toh miracle hai. After raising questions from Chidambaram Along with Union Minister Hardeep Singh Puri, BJP Yuva Morcha National President Tejashwi Surya has also attacked him and appreciated the steps being taken by the government.
.
Big statement of Union Minister Santosh Gangwar, women can now work even at night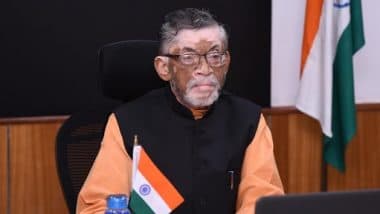 Union Minister Santosh Gangwar (Photo Credits PTI)
New Delhi: Union Labor and Employment Minister Santosh Gangwar has said that India is making collective efforts to reduce the gender gap in labor force participation. Women can now work at night also. He said that the country is ensuring equal pay for education, training, skilling, entrepreneurship development and equal work. Gangwar was delivering a ministerial address on the Declaration and Working Group priorities at the G-20 Labor and Employment Ministers' meeting here on Wednesday.
The Minister said that the new Code on Wages, 2019 will reduce gender-based discrimination in wages, recruitment and conditions of employment. Women are entitled to all types of work in all establishments. Employers have to ensure their safety and provision of working hours. Women can now work at night also.
Gangwar informed that the period of paid maternity leave has been increased from 12 weeks to 26 weeks. Under the Pradhan Mantri Mudra Yojana, financial assistance has been given to women entrepreneurs to start small enterprises. Under this scheme, collateral free loans of Rs. 9 thousand billion have been disbursed. About 70 percent of the accounts in this scheme are of women.
The Labor and Employment Minister said that in the new code on social security, now self-employed and all other sections of the work force can also be included under the ambit of social security coverage. In the voluntary and contributory pension scheme launched in 2019 for workers in the unorganized sector, there is a provision of minimum assured pension after 60 years of age.
48 lakh stolen from different ATMs of SBI in Tamil Nadu, bank bans cash withdrawal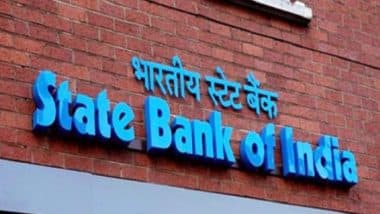 State Bank of India (file photo)
New Delhi: India's largest bank State Bank of India (SBI) has closed the operations of its ATMs in Tamil Nadu. The bank has taken this step after some gang took advantage of technical flaws and stole at least Rs 48 lakh. However, the bank has put up posters at ATM locations informing customers that the cash withdrawal facility at recyclers, ie Cash Deposit Machines (CDM), has been temporarily suspended due to a technical snag.
After withdrawing money from different ATMs in Tamil Nadu, the bank management has decided to stop the operation of ATMs as a precautionary measure. So that after this ban of SBI, customers will no longer be able to withdraw money from ATMs. Tamil Nadu Police has been involved in the identification of this gang withdrawn from the same ATM. Also read: Gurugram: 2 arrested for ATM theft in Fazilwas village, Rs 8 thousand recovered
According to Chennai Police Commissioner Shankar Jiwal, "The theft has happened due to some technical reason in the machines. All 7 cases have been caught in the CCTV cameras. The investigation of the footage is going on. We will also talk to other banks whether such theft happened there also." A team has been formed under the chairmanship of Additional Commissioner N Kanan to nab the thieves.