Guidelines will be issued soon to protect children from Kovid, before that take care of these things of health experts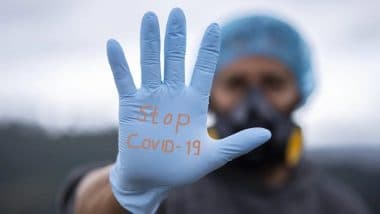 Photo Credits: Pixabay
Before the third wave of Corona, the central government has started working towards the rescue of children. The Health Ministry says that a national group has been formed to protect children from the outbreak of Kovid, whose experts have prepared guidelines and they will be issued soon. The government says that full arrangements are being made for the children. Meanwhile, in Prasar Bharati's Corona Awareness Special Program, Dr. Rakesh Garg of AIIMS, New Delhi gave many important information regarding the symptoms and precautions of Kovid in children. Also read: The number of people recovering after the lockdown in Bihar increased by about 19 percent
It is important to keep an eye on the symptoms of children
Regarding the symptoms of corona in children, Dr. Rakesh Garg said that in the first wave of corona, cases were very less in children, while adults were more affected in the second wave. However, some cases have also come in children as compared to the first wave. As far as symptoms are concerned, symptoms like fever, cough, diarrhea, abdominal pain and weakness have also been found in them. On the positive side, most of the children had mild symptoms. Although the infection remained high in some children, the number of such children is very less. It is very important to keep an eye on the symptoms of children. If the temperature is high, cough is high, there is problem in breathing, then contact the doctor immediately. Yes, keep in mind that do not give any medicine to children on their own because giving it to adults is not necessarily right for children.
After how many days do symptoms come in children?
During this, he told that when children are exposed to infection, then symptoms start appearing in them after 3-4 days, it is called incubation period. Let us assume that some symptoms will be seen in 5-6 days. Symptoms may increase and decrease or may persist for 4-5 days. During this, pay attention to how many times the child breathes in a minute. Looking at the child daily, it is known whether he is breathing slowly or faster than normal. The child gets diarrhoea, wrinkles appear on the face, dehydration starts, eyes start moving inwards, not eating properly, not talking. If there are any changes during monitoring, which are bothering the child, then contact the doctor immediately. Also read: Delhi government will plant 33 lakh trees for permanent solution of oxygen
Teach children Kovid Appropriate Behavior
Dr Garg told that the infection of corona virus spreads very fast from one to another, whether it is from child or elder. Many times the symptoms are not visible in children very quickly, in such a situation other family members can be infected by the virus. For this, it is most important that Kovid should teach Appropriate Behavior. If any symptoms are coming then do not ignore, get the Kovid test done immediately. Also, keep motivating the children, so that the internal immunity is boosted and they can recover quickly.
Dr Indira Hridayesh Death: Senior Congress leader Dr. Indira Hridayesh passed away, CM Tirath Singh Rawat expressed grief
Dehradun, June 13: All the countrymen are saddened by the demise of senior Uttarakhand Congress leader Dr. Indira Hridayesh. Meanwhile, the current Chief Minister of the state Tirath Singh Rawat has also expressed grief by tweeting. He wrote in tweeting, 'Senior leader of Uttarakhand state, former minister and leader of opposition in the current assembly, got the sad news of the death of my elder sister, respected Mrs. Indira Hridayesh ji. I pray at the feet of the Lord for the peace of his soul.
Senior leader of Uttarakhand state, former minister and leader of opposition in the current assembly, got the sad news of the death of my elder sister, respected Smt. Indira Hridayesh ji.

I pray at the feet of God for the peace of his soul. pic.twitter.com/rQ2SOijxRn

— Tirath Singh Rawat (@TIRATHSRAWAT) June 13, 2021
(With SocialLY get the latest breaking news, viral trends and all the news related to the world of social media. Here you will get live information about every content that is going viral on Twitter, Instagram and YouTube. The post shown above is unedited content, which can be sent directly to social media. Taken from the accounts of media users. Not modified or edited by Latestly staff. Social media posts do not represent the views and sentiments of Latestly, We assume no responsibility or liability for any content contained in this post do not accept.)
Maharashtra: Sanjay Raut's big statement, said- Uddhav Thackeray will remain CM for 5 years, after two and a half years told the news of change of chief minister as rumor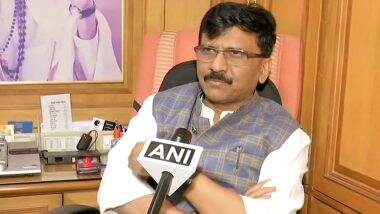 Shiv Sena MP Sanjay Raut (Photo Credits-ANI)
Mumbai: In Maharashtra, it seems that all is not well in the Maharashtra Mahavikas Aghadi alliance. Because news was flying about Maharashtra Mahavikas Aghadi government that the CM of Shiv Sena would be changed after 2.5 years. Regarding these reports, Shiv Sena spokesperson Sanjaya Raut said in a conversation with the media on Sunday that whatever news is flying about the Maharashtra government is a rumour. When 3 parties formed the government, they committed and decided that CM would be Uddhav Thackeray for 5 years.
Actually, where the closeness between Shiv Sena and NCP is increasing on one side. At the same time, the Congress included in the government is feeling isolated in this alliance. The latest example of this is the statement of Congress state president Nana Patole in which he has spoken of fighting alone in all the coming elections. Patole has said that the Congress will fight all alone from the local body elections to the assembly elections. Also read: Shiv Sena was considered a slave in the previous BJP government in Maharashtra: Sanjay Raut
Sanjay Raut told the news a rumour:
It's a rumor that Shiv Sena CM will be replaced after 2.5 years. When 3 parties formed govt, they committed & decided that CM will be Uddhav Thackeray for 5 years. If someone talks about this, then it is nothing but lie & rumor: Shiv Sena leader Sanjay Raut pic.twitter.com/0jYpBGpcYT

— ANI (@ANI) June 13, 2021
Let us tell you that there is a government in Maharashtra consisting of three parties, Congress, NCP and Shiv Sena. Uddhav Thackeray is the Chief Minister from Shiv Sena in the alliance of the three parties. But in recent times it has been seen that there is a tussle going on in Maharashtra Mahavikas Aghadi. Except Shiv Sena, there are allegations of Congress leaders in Congress and NCP. They are not consulted before taking any major decision.
Update Weather: Chances of rain and thunderstorms in next three to four days in Rajasthan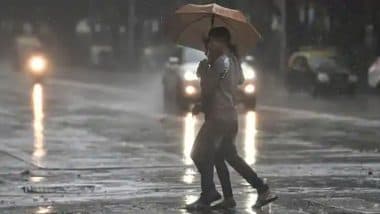 rain | Symbolic Image (Photo Credits: PTI)
Jaipur, June 13 : In Rajasthan's Bikaner, Jaipur, Bharatpur, Jodhpur, Udaipur and Kota divisions, there is a forecast of rain with half in the next three-four days and a drop of two to three degrees Celsius in most parts of the temperature. Director of Jaipur Meteorological Station R. s. Sharma said that there is a possibility of heavy rain with thunderstorm / dust storm in some parts of North Rajasthan on Sunday. In the districts of Bikaner, Jaipur and Bharatpur divisions, there is a possibility of sudden strong winds, dust storm (wind speed 40 to 50 kmph) accompanied by thunderstorms. During this, there is a possibility of thunderstorms at some places in these districts.
Apart from this, thunderstorms are expected to continue for the next three-four days, he said. On June 15, once again there will be an increase in the activities of thunderstorms in Jodhpur and Bikaner divisions of western Rajasthan. During this, strong thunderstorms, wind speed up to 40 to 60 kilometers per hour can be recorded. According to Sharma, there is a strong possibility of heavy rain with thunderstorm on June 15-16 in the districts of Ajmer, Jaipur, Bharatpur Kota division. In Udaipur and Kota divisions also, rain with thunderstorm is expected on June 15-16-17. According to the Meteorological Department, in the last 24 hours, three centimeters in Dholpur in East Rajasthan, three centimeters in Rupbas in Bharatpur, two in Basedi in Dholpur, two in Sapou in Dholpur, Gangapur in Sawai Madhopur, Bamanwas, Bhuhana in Jhunjhunu, Behrod in Alwar, Kotkasim. One centimeter rain was recorded in Rajkheda in Dholpur and one centimeter in Rawatsar, Bhadra and Tibi of Hanumangarh in western Rajasthan. Also read: COVID-19 Update: 255 new cases of Kovid-19 surfaced in the national capital Delhi, 23 patients died
According to the department, Sawai Madhopur and Bundi were the hottest places in the last 24 hours with a maximum temperature of 44 degrees Celsius till Sunday morning. The maximum temperature was recorded at 43.9 in Pilani, 43.6 in Churu, 43.5 in Karauli, 43.2 in Kota, 42.8 in Ganganagar, 42.3 in Pali, 41 in capital Jaipur and below 40 degree Celsius at other major places. At the same time, the minimum temperature in most parts of the state was recorded in the range of 30.9 degree Celsius to 24.1 degree Celsius.