Former Himachal Pradesh CM Virbhadra Singh got corona infected for the second time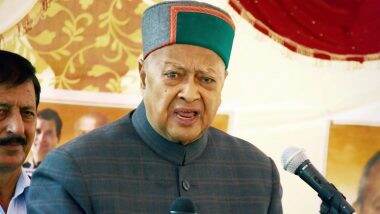 Virbhadra Singh (Photo Credits: Facebook)
Shimla, June 11: Former Himachal Pradesh Chief Minister Virbhadra Singh has been found infected with the corona virus for the second time in two months. A health official gave this information on Friday. Earlier, the infection was confirmed on April 12 in the investigation of a senior Congress leader.
Special Secretary (Health) Nipun Jindal said Singh is undergoing treatment at Indira Gandhi Medical College in Shimla and his condition is stable. Singh (86), has been a nine-time MLA and five-time MP and has been the Chief Minister of Himachal Pradesh six times. Presently he is MLA from Arki in Solan district.
Also read- 12th class board exams canceled in Himachal Pradesh, Corona curfew also extended till June 14
He was admitted to a hospital in Chandigarh after contracting the infection for the first time. After recovering from Kovid-19, he returned home on 30 April at Holy Lodge here. However, a few hours after reaching home, he was admitted to IGMC after complaining of breathlessness and has been undergoing treatment since then.
Inflation: Wholesale inflation hits record high of 12.94 per cent due to costlier fuel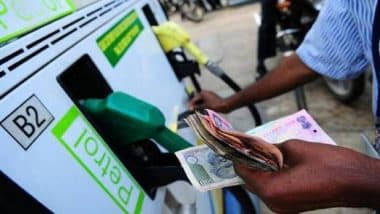 Representational Image | (Photo Credits: PTI)
New Delhi: Inflation based on wholesale prices rose to a record high of 12.94 per cent in May due to rise in prices of crude oil and manufactured goods. WPI inflation rose sharply in May 2021 due to the lower base effect. WPI inflation in May 2020 was negative 3.37 per cent. Petrol Diesel Price: Petrol reached beyond 100 in these states, know today's price in your cities
This is the fifth consecutive month that inflation based on the Wholesale Price Index (WPI) has increased. In April 2021, WPI inflation was in double digits to 10.49 percent. "The annual rate of inflation based on monthly WPI has increased to 12.94 per cent in May 2021 (as compared to May, 2020) from negative 3.37 per cent in May 2020," the commerce ministry said in a statement.
According to the statement, "The higher rate of inflation in May 2021 is mainly due to lower base effect and increase in the prices of petroleum products and manufactured products like petrol, diesel, naphtha, furnace oil etc. as compared to the corresponding month of last year. "
Inflation in fuel and power rose to 37.61 per cent during the period under review, from 20.94 per cent in April. Inflation in manufactured products stood at 10.83 per cent in May as against 9.01 per cent in the previous month.
Food inflation moderated marginally to 4.31 per cent in May. However, onions became expensive during this period. RBI in its monetary policy earlier this month kept interest rates at a record low and said it was committed to maintain a lenient policy to boost growth.
(This is an unedited and auto-generated story from a syndicated news feed, likely not modified or edited by the latest staff)
Revolt in LJP, Chirag Paswan's uncle Pashupati Kumar Paras was unanimously elected leader of the party parliamentary party in Lok Sabha
Pashupati Kumar Paras was unanimously elected as the leader of Lok Janshakti Party (LJP) parliamentary party in Lok Sabha.
Pashupati Kumar Paras unanimously elected as the Lok Janshakti Party (LJP) Parliamentary party leader in Lok Sabha; a meeting was held on 13th June.

(File photo) pic.twitter.com/2qNBAqiZhq

— ANI (@ANI) June 14, 2021
(With SocialLY get the latest breaking news, viral trends and all the news related to the world of social media. Here you will get live information about every content that is going viral on Twitter, Instagram and YouTube. The post shown above is unedited content, which can be sent directly to social media. Taken from the accounts of media users. Not modified or edited by Latestly staff. Social media posts do not represent the views and sentiments of Latestly, We assume no responsibility or liability for any content contained in this post do not accept.)
Uttar Pradesh: Police arrested 6 under anti-conversion law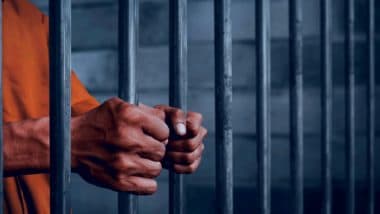 Symbolic Image (Photo Credits: File Photo)
Rampur: In Uttar Pradesh (Uttar Pradesh), six people, including a Maulavi and a barber, have been banned from illegal conversions ordinance (Love Jihad) for conducting the circumcision ceremony of two minor boys below the age of 12 years in secret. , 2020 has been taken into custody. This incident of Saturday is from Shahbad area of ​​Rampur. Uttar Pradesh: Woman who accused doctors and medical staff of rape dies
As soon as the members of Hindu Jagran Manch (HJM) came to know about the ceremony, they along with the police went to the house of the truck driver Mahfouz. His parents and the barber were arrested. The search is on for other people involved in this.
According to Additional SP (ASP) Sansar Singh, the mother of a non-Muslim boy resident of Uttarakhand lost her husband, who was a truck driver by profession, in a road accident last month. She had recently come to live with Mehfooz and his family in Bairua village of Shahbad area. Mahfouz is not married yet.
The woman changed her name to Gulistan.
The ASP further said, "In this case we have registered an FIR as the boys are minors and their conversion was against the law, so we took cognizance of the incident only after coming to know about it."
He further added, "We have registered a case against Mahfouz, his parents, his brother-in-law who organized the ceremony, the cleric who conducted the conversion ceremony and the barber who performed the circumcision."
They have been booked under IPC section 324 (voluntarily causing hurt by dangerous weapons or means) as well as provisions of the Unlawful Conversion of Religion Act, 2020.
As per the provisions of the Act, the person seeking conversion and the convert is required to submit an advance declaration of the proposed religious conversion to the District Magistrate. After this, by the order of the District Magistrate, the police investigation is done regarding the reason for conversion, intention etc. However, no such criteria were followed in this case.