Former Censor Board President Pahlaj Nihalani vomits blood after eating outside food, survives 28 days in hospital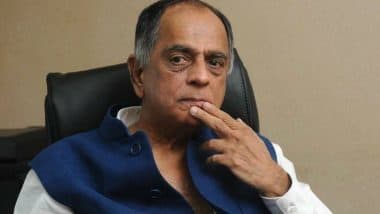 Pahlaj Nihalani (Photo Credits: Instagram)
Former Censor Board President Pahlaj Nihalani told that he vomited blood due to eating outside food, after which he had to stay in the hospital for 28 days and undergo his treatment. He told that he had ordered food from outside which was bad and due to this his health had deteriorated a lot. In this case, now he will initiate legal action against that hotel.
In a Bollywood Hungama report, Pahlaj Nihalani told that some members of the unit of his upcoming film had come to his house and because there was less food in the house, he ordered food for all of them from outside. Usually he prefers home-cooked food and eats only chicken in non-veg food. When the unit insisted, he sat down to eat the food ordered with them to keep their heart. At that time they realized that there was something wrong with the food but everyone assured them that the food was fine.
Pahlaj told that after eating that food, his health deteriorated and he started vomiting. After this, around 3 o'clock in the night, he started vomiting blood. After this he immediately called his son and he was admitted to Nanavati Hospital where he spent 28 days. Due to the epidemic, he was not allowed to meet anyone and he used to talk to his wife through video call.
He said that due to the hard work of the doctors, he could be brought out of the mouth of death. During this, his well-wishers were worried whether he had Kovid or not. He told that he was not corona infected and was able to survive due to the help of his family and doctors.
Pahlaj Nihalani informed that during his troubled times, Shatrughan Sinha constantly took stock of his health and the hospital also visited him. He said that he would drag that hotel to the court as it could also be the last meal of his life.
Pregnant Nusrat Jahan jumps in water, bold photoshoot of swimming pool goes viral
Mumbai. Trinamool Congress MP and Bengali actress Nusrat Jahan has been in the news for the past several days. Nusrat Jahan is very active on social media, keeps sharing her beautiful pictures and videos, which fans like very much.
Friends, recently Nusrat Jahan has shared VIDEO. In this, she is seen playing with water in the swimming pool. Friends, this shoot of Nusrat is being liked by the fans, while some people are also criticizing her. Let us tell you that for the past several days, she is in the headlines due to the news of pregnancy and rift with husband Nikhil Jain.
Friends, let us tell you that Nusrat Jahan's sensational statement has come after the news of rift with pregnancy and Nikhil Jain. In this he had said that his marriage to Nikhil is illegal. Friends, only after this a picture of her came out in which her baby bump was visible. According to reports, Nikhil Jain says that he is not the father of Nusrat's child.
Friends, for your information, let us tell you that Nusrat Jahan claims that she married businessman Nikhil Jain in Turkey in 2019. This marriage is not valid according to Indian laws. Friends, they say that they had married according to the Turkish Marriage Regulation, so it is illegal in India.
.
The house of this actress is no less than a shopping mall, if not sure then see for yourself
You must have known the beautiful television actress Digangana Suryavanshi that she has always been the subject of discussion about her character in television.
Digangana Suryavanshi likes to be active on social media and keeps sharing her stylish pictures every day, you can see in these pictures that she is looking very beautiful and hot.
You can see her shoes collection purse collection in the background, her house is no less than a shopping mall, let us tell you that Digangana Suryavanshi's financial condition is already good, she belongs to Rajput family.
Digangana Suryavanshi has now started working in web series as well and the people of her upcoming project eagerly wait.
.
Bold photoshoot of this actress went viral, people said second Sunny Leone
Although Sunny Leone is one of the hottest and bold actresses of Bollywood because her style is very much liked by the people and she wins the hearts of people with her bold character in films, but actress beauty who is famous from Raktanchal web series Sharma is also no less than her, she is also very hot and always remains in the discussion about her photoshoot.
Soundarya Sharma has recently posted some pictures in which she looks quite bold and after seeing these pictures people call her the second Sunny Leone.
Let us tell you that this actress has also worked in the second part of this web series, Sundaria Sharma has also worked in some Bollywood films and now she is not getting work in Bollywood but still she is very active in the web series. .
.