Five others including doctor arrested for stealing injection of black fungus and Kovid in UP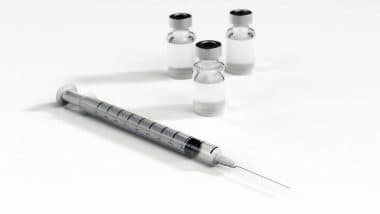 Vaccine (Photo Credits: pixabay)
Lucknow, June 10 : A qualified doctor and five others have been arrested in Uttar Pradesh for stealing black fungus and Remdesivir Injection from various hospitals and selling them to the kin of patients at exorbitant rates. Police Commissioner D.K. Thakur said that he was arrested on Wednesday from near Rafayam Club.
Eight mobile phones, Rs 16,000 cash, two motorcycles and a car, 28 injections of black fungus (liposomal amphotericin B) and 18 injections of remdesivir were seized from them. One of the accused, Wamiq Hussain, is a doctor at Ram Manohar Lohia Hospital, while the rest are ward boys and other people working in different hospitals. Also read: Farmers Protest: Opposition is weak in the country, so we have to sit on the streets- Rakesh Tikait
Hussain was posted in Emergency Medicine at RML Institute. Other accused include KGMU technician Mohammad Imran, KGMU ward boy Mohammad Arif, KGMU pharmacist Balbir Singh, pharmaceutical franchise owner Mohammad Rakib and his associate Rajesh Singh, a salesman of a surgical company. ADCP Rajesh Srivastava said that the police had received information that some people were illegally selling liposomal amphotericin B and remdesivir injections.
America: US approves Indian living in Arabia for smuggling Iranian oil
Petrol-Diesel (Photo Credit: Facebook)
New Delhi, June 24 : The US Treasury Office of Foreign Assets Control (OFAC) has named Indian national Manoj Sabharwal among members of a smuggling network that works to fund Iran's Islamic Revolutionary Guard Corps-Quds Force (IRGC-Codes Force) and the Houthis in Yemen. helps in. The network, led by Iran-based Houthi financier Saeed al-Jamal, generates tens of millions of dollars in revenue for the Houthis in Yemen from the sale of commodities such as Iranian petroleum, a significant portion of which is built through a complex network of intermediaries and exchange houses in several countries. is directed through.
According to the US Treasury, UAE-based Sabharwal is a maritime shipping professional who manages shipping operations for al-Jamal's network and advises al-Jamal on the smuggling of Iranian oil products. Sabharwal is responsible for coordinating shipments of Iranian petroleum products and commodities throughout the Middle-East and Asia, obscuring al-Jamal's involvement. Also read: America White House: America will deploy additional forces in Afghanistan for military security
Sabharwal is being designated to physically aid, sponsor, or provide financial, material, or technical assistance, or goods or services in or in support of Al-Jamal. Since the start of the conflict in Yemen, the Houthis have relied on the support of the IRGC-QF to drive their campaign against the internationally recognized Yemeni government and the Saudi-led coalition.
Petrol, Diesel Prices Today: Petrol-Diesel prices increase again today, know the new rate of your city
This is the 29th hike in vehicle fuel prices since May 4. Petrol prices in Delhi stood at Rs 97.50 per liter and diesel at Rs 88.23 per liter with no change in fuel prices on Wednesday. Union Petroleum Minister Dharmendra Pradhan alleged that the current hike in the prices of petrol and diesel is a result of the policies of the previous UPA government. At the same time, former Congress President Rahul Gandhi took a jibe at the government on Tuesday over the increase in the prices of petrol and diesel, saying that now the prices of petroleum products will be reduced during the next elections. On the other hand, fuel retail prices in India are expected to firm up in the coming days due to rising global crude oil prices and declining inventory of the world's largest fuel consumer – the US.
The price of petrol & diesel in Delhi is at Rs 97.76 per liter and Rs 88.30 per liter respectively today

Petrol & diesel prices per liter – Rs 103.89 & Rs 95.79 in #mumbai, Rs 98.88 & 92.89 in #Chennai, Rs 97.63 & Rs 91.15 in #Kolkata pic.twitter.com/AWwAtGL2MX

— ANI (@ANI) June 24, 2021
(With SocialLY get the latest breaking news, viral trends and all the news related to the world of social media. Here you will get live information about every content that is going viral on Twitter, Instagram and YouTube. The post shown above is unedited content, which can be sent directly to social media. Taken from the accounts of media users. Not modified or edited by Latestly staff. Social media posts do not represent the views and sentiments of Latestly, We assume no responsibility or liability for any content contained in this post do not accept.)
Jharkhand: Jharkhand will get 4,630 oxygen concentrators under PM-Cares fund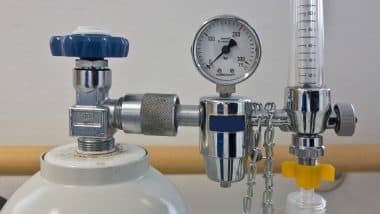 Medical Oxygen (Photo Credits: Pixabay)
Ranchi, June 24 : After the decrease in the cases of second wave of corona virus in Jharkhand, the state government has started preparations to deal with the third wave. Under the PM-Cares fund, 4,630 oxygen concentrators will be available. In the second wave, oxygen crisis was a major issue, so this time adequate attention has been paid to arranging oxygen, under which 38 PSA plants will be set up in Jharkhand. Apart from this, the state will get 4,630 oxygen concentrators.
Apart from Sadar Hospitals of all districts, these oxygen concentrators will also be used in CHCs, PHCs and health sub-centres, for which nodal officers will be appointed from block level to state level. A health department official said that the center is also providing training so that the machines can be used properly. Also read: Mukhyamantri Pashudhan Yojna: Chief Minister should ensure 100% implementation of livestock scheme – Agriculture Secretary
The Center has developed the Oxygen Concentrator Management Information System (DOUTKAR). The concerned nodal officer will have to update the daily information on the portal and it will also be the responsibility of the officer to make arrangements for electricity and other requirements. In Jharkhand, 38 PSA plants will also be set up under the PM-CARES Fund and it is expected that all the plants will be commissioned in the next two months. Two technical persons will be appointed in each of these plants, along with a nodal officer will also be deputed and he will be responsible for complete coordination.