Fact Check: French Nobel laureate Luke Montagnier said – Will people die within 2 years of vaccination? PIB exposes this fake claim, truth revealed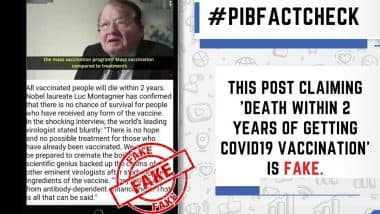 (Photo Credits: Twitter / PIBFactCheck)
New Delhi, 25 May. In this era of Corona epidemic, various types of viral and fake messages are being shared on social media. One such post is going viral on different social media platforms, in which Nobel laureate and French Nobel Laureate shares a statement about the Kovid-19 vaccine in the name of Luc Montagnier. being done. In this viral message, it is being claimed that Montagnier has confirmed that people will die within two years of vaccination. It is claimed that they have said, 'There is no hope and no possible cure for those who have already been vaccinated.' ALSO READ- Fact Check: People being killed due to testing of 5G network and the name of COVID-19 being given to it? Know the truth of the claim being made in the viral audio from PIB.
Rejecting this false information, the team of Press Information Bureau found in its fact check that this message going viral is fake. PIB further stated that the Kovid-19 vaccine is completely safe. PIB has also urged people not to forward it. Also read- Fact Check: 10 thousand people will get cash reward from WHO under Kovid-19 relief plan, know the truth of viral message from PIB.
PIB Fact Check-
An image allegedly quoting a French Nobel Laureate on # COVID19 vaccines is circulating on social media

The claim in the image is #FAKE. # COVID19 Vaccine is completely safe

Do not forward this image#PIBFactCheck pic.twitter.com/DMrxY8vdMN

– PIB Fact Check (@PIBFactCheck) May 25, 2021
Since the outbreak of the corona virus epidemic in the country, various false and misleading information related to the virus and its treatment are being widely shared and disseminated on different social media platforms. People are advised not to trust any information till they come from relevant and competent sources. People should refrain from forwarding and sharing any such information or claim from unverified sources.
Fact check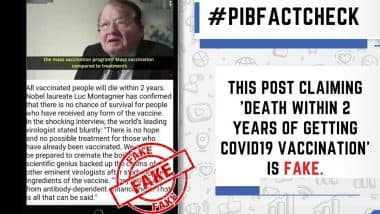 Claim:
People will die within two years of vaccination.
Conclusion:
This claim is fake. The Kovid-19 vaccine is completely safe.
Tamil Nadu Unlock: CM MK Stalin's big statement, said – relaxation will be withdrawn if the rules are not followed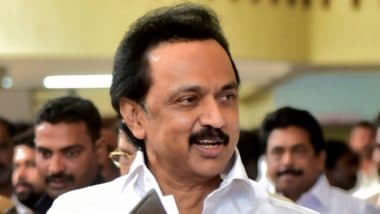 CM MK Stalin (Photo credits: ANI)
Chennai: Tamil Nadu Chief Minister MK Stalin has warned the people of the state that if the Corona Protocol is not followed, the relaxations implemented from Monday can be withdrawn. In a video appeal released on June 14, the Chief Minister of Tamil Nadu said that the norms have to be followed with relaxation in the lockdown, failing which the lockdown can be withdrawn at any time. Tamil Nadu: Permission has been given to open parks, salons, beauty parlors, spas and tea shops from 6 am to 5 pm from today in 27 districts including Chennai.
Stalin said if people follow the rules, the state can go ahead and steps can be taken to open schools and colleges along with allowing the service of public transport.
However, he thanked the people of Tamil Nadu for adhering to the restrictions during the last few weeks and said that the restraint shown by the people has helped in reducing the number of COVID positive cases.
The Chief Minister of Tamil Nadu also said that people should not ignore the norms of Kovid. He also called upon people not to crowd in front of tea shops. He also said that despite heavy criticism, the government has opened liquor shops to prevent people from consuming illegal and smuggled liquor.
Karnataka: Yediyurappa government will give Rs 1 lakh if ​​a working member of a BPL family dies of COVID
In Karnataka, on the death of an adult working member of a Below Poverty Line (BPL) family, a compensation of Rs.
If an adult working member from a Below Poverty Line (BPL) family dies due to COVID, one member will get Rs 1 lakh compensation: Karnataka CM BS Yediyurappa

(file photo) pic.twitter.com/7UNnjnsEPo

— ANI (@ANI) June 14, 2021
(With SocialLY get the latest breaking news, viral trends and all the news related to the world of social media. Here you will get live information about every content that is going viral on Twitter, Instagram and YouTube. The post shown above is unedited content, which can be sent directly to social media. Taken from the accounts of media users. Not modified or edited by Latestly staff. Social media posts do not represent the views and sentiments of Latestly, We assume no responsibility or liability for any content contained in this post do not accept.)
All centrally protected monuments/sites and museums to be opened from June 16: Archaeological Survey of India
Protected monuments/sites and museums to be opened:
All Centrally protected monuments/sites and museums under ASI will be opened from 16th June: Archaeological Survey of India pic.twitter.com/Kig3w0AEEt

— ANI (@ANI) June 14, 2021
(With SocialLY get the latest breaking news, viral trends and all the news related to the world of social media. Here you will get live information about every content that is going viral on Twitter, Instagram and YouTube. The post shown above is unedited content, which can be sent directly to social media. Taken from the accounts of media users. Not modified or edited by Latestly staff. Social media posts do not represent the views and sentiments of Latestly, We assume no responsibility or liability for any content contained in this post do not accept.)