Eng VS NZ Test Series: Big blow to New Zealand, Kane Williamson may be ruled out of the second Test against England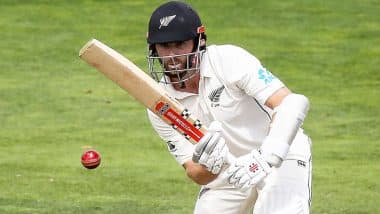 Kane Williamson (Photo Credits: Getty Images)
Mumbai: The second and final Test match of the Test series between hosts England and New Zealand is to be played at Edgbaston from June 10, but before that a bad news has come out for the New Zealand team. New Zealand captain Kane Williamson from the second Test against the host England team (Kane Williamson) may have to sit outside. Doubts continue over Williamson playing the second Test. The first Test played between the two ended in a draw. Eng vs NZ Test Series: New Zealand captain Kane Williamson hints at a comeback in the second Test against England, said these things
Please tell that Kane Williamson and left-arm spinner Mitchell Santner have been injured. The New Zealand Cricket Board informed that Williamson has an elbow injury and Mitchell Santner's finger is injured. Mitchell Santner has been ruled out of the second Test against England. The decision on playing Kane Williamson will be taken on Wednesday. The second Test match between New Zealand and England will be held in Birmingham from June 10. The first Test of the series was a draw.
Williamson's performance in England has been very poor. If he plays in the second test and reaches a big score, then his confidence will increase before the WTC final. Williamson was dismissed for 13 runs in the first innings of the Lord's Test and just 1 run in the second innings. Williamson was shown the way to the pavilion by Anderson and Olly Robinson.
Ajaz Patel can now be included in the playing XI in place of Mitchell Santner. Ejaz Patel has taken 22 wickets in 8 Test matches so far. Ejaz Patel made his debut against Pakistan in 2018 and became the man of the match by taking 7 wickets. New Zealand captain Williamson's play in the second test match against England is very important as this is his last chance to prepare before the final of the World Test series.
Vishwanath Anand has this to say about the controversial charity chess match against Zerodha co-founder Nikhil Kamath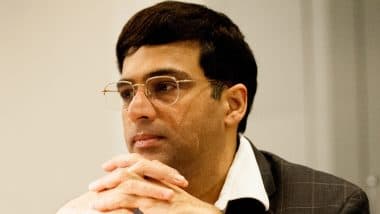 Viswanathan Anand (Phpto Credits: wikimedia coommons)
New Delhi: Viswanathan Anand spoke openly about the controversial charity chess match against Zerodha co-founder Nikhil Kamath. Nikhil Kamath was caught cheating during the biggest chess charity event. The incident happened during the biggest ever chess fundraiser event in which the Indian chess grandmaster and former world chess champion was playing against several celebrities. Kamath's chess profile was banned for violating the 'Fair Play' policy. Filmmaker Aanand L Rai to make biopic on chess champion Viswanathan Anand
The charity event is a part of the Checkmate COVID-Celebrity Edition by Chess.com India and in association with Akshaya Patra, Prabhupra Padakannaya, CEO – Extra Talent Management. It was held on 13 June at 5.00 PM and was live-streamed on India's official YouTube channel Chess.com.
The Checkmate COVID series will feature 5-time world champion, Viswanathan Anand, which featured ten Indian celebrities and business leaders-five in one-hour simulation games. These included Aamir Khan, Kiccha Sudeep, Riteish Deshmukh, singer Arijit Singh, singer-songwriter Ananya Birla, cricketer Yuzvendra Chahal, Xiaomi India MD Manu Kumar Jain, Zerodha co-founder Nikhil Kamath, producers Sajid Nadiadwala and Aaprupra Padannya. These matches were played to raise funds in the fight against Corona.
Here is Viswanathan Anand's tweet:
Yesterday was a celebrity simul for people to raise money It was a fun experience upholding the ethics of the game.I just played the position on the board and expected the same from everyone . pic.twitter.com/ISJcguA8jQ

— Viswanathan Anand (@vishy64theking) June 14, 2021
Nikhil Kamath's Chess Profile Banned For Violating Fair Play Policy: Here's The Tweet:
So the Zerodha CEO Nikhil Kamath played a charity chess match against Visvanathan Anand for COViD relief.

Gamed the system to win.

Got his chess profile banned.

A little shameful to cheat to win against a World champ. pic.twitter.com/67GvU2j6tD

— MB (@desiboho) June 13, 2021
Check out Nikhil Kamath's tweet here:
It is ridiculous that so many are thinking that I really beat Vishy sir in a chess game, that is almost like me waking up and winning a 100mt race with Usain Bolt. 😬 pic.twitter.com/UoazhNiAZV

— Nikhil Kamath (@nikhilkamathcio) June 14, 2021
Akshaya Patra is serving relief meals in 19 states and one union territory through its network of kitchens. Since March 2020, the foundation has served food to over 128 million people from vulnerable communities who are facing difficulties in arranging food for themselves due to the COVID-19 pandemic and measures to contain the outbreak.
Copa America 2021: Lionel Messi wants to fulfill his biggest dream with Argentina by winning Copa America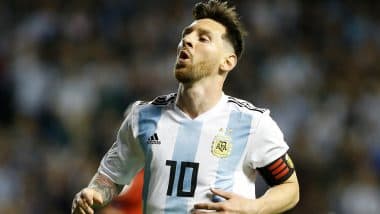 Lionel Messi (Photo Credits: Getty Images)
New Delhi: Lionel Messi is now 33 years old and he has probably the last chance to fulfill this dream by winning the Copa America football tournament. This star footballer is determined to fulfill his unfulfilled dream this time. Copa America 2021: Brazil and Argentina are the top contenders for the title in Copa America
Argentina will start their campaign in the Copa America against Chile in Rio de Janeiro on Monday. Brazil was handed over the hosting of the tournament at the last minute after Colombia and Argentina were dropped from co-hosts.
Messi said at a press conference in Rio, "I am always available for my team. My biggest dream is to win the title with my national team." He said, "I have come close to it many times. It didn't happen but I will keep trying. I will leave no stone unturned to fulfill this dream.
Copa America 2021: Brazil got off to a great start in the Copa America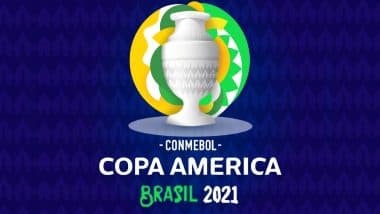 Copa America (Photo Credits: wikimedia commons)
New Delhi: Maraquinhos, Neymar and Gabriel Barbosa scored for Brazil in a lyrical match played on Sunday at Mane Garincha Stadium in Brasilia. A day before this, many players from Venezuela were found positive for Kovid-19. Copa America 2021: Big blow to Venezuela before the match, 12 members of the team turned out to be Corona positive
Brazil was handed over the hosting of the tournament at the last minute, which was opposed by its top players. Despite this, captain Casemiro said that the defending champions entered the tournament with the goal of retaining the title.
"Whether it is a friendly match, the Copa America or the World Cup qualifiers, we always play to win," he said. In a hurry, 15 new players had to be called. Its effect was clearly visible on the field as well. Brazil also missed a few chances but did not get a special challenge from Venezuela.