During the hearing in the court, Juhi Chawla's fan showed such love, the judge got furious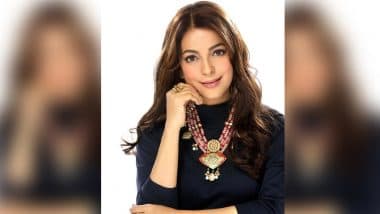 Juhi Chawla (Photo Credits: Instagram)
bollywood actress Juhi Chawla (Juhi Chawla) has been in discussion for some time now. He has petitioned the Delhi High Court against the 5G trial and demanded a stay on it. Hearing on this petition took place today. But during the hearing, a fan of Juhi Chawla did such a spectacle, which angered the judge and asked to identify the person and issue contempt against him.
Bar & Bench has given information about this by tweeting. Actually, this hearing was done in the court in a virtual way. During this, the voice of an unknown person came that where am I Juhi? I can't see them. After which this person started singing Juhi's song 'Ghunghat Ki Aad Se'. After which the angry court ordered the master to remove him from the hearing.
But that person again joined the link of the hearing. This time he started singing the song 'Lal Lal Otho Pe Gori Tera Naam Hai'. After which the master threw him out again on the orders. But that person did not agree, he again joined the hearing link, this time he started singing the song Meri Bano Ki Aayegi Baraat.
The angry court identified the person and ordered to issue a contempt notice against him.
Trend on Twitter, this actress became the first choice of people for the character of Sita
Mumbai. Friends, let us tell you that director Supernatural Desai is soon going to make the film Sita, in which the name of Kareena Kapoor Khan is coming to the fore. Kareena Kapoor Khan has been trolled for the role of Sita. According to reports, for playing the role of Sita in a film based on Ramayana, Rs 12 crore was allegedly demanded. After such news surfaced, he was trolled on Twitter. People say that they do not want to see Kareena Kapoor in the role of Sita.
Friends, let us tell you that the trolls also opposed the making of the film and said that if Kareena plays Sita in this film, then she will boycott it. Although friends, some users have also suggested options for other actresses for the role of Sita. Friends, users say that Kangana Ranaut, Yami Gautam, Anushka Shetty and Keerthy Suresh will be the best for the role of Sita.
Friends, people say that Kareena Kapoor Khan has demanded Rs 12 crore for the role of Sita Maa. Friends, let us tell you that Deepika Padukone was also approached for this role before Kareena Kapoor but the matter did not work out. Although friends Kareena has liked its script, but talks are going on between the makers and the actress regarding the fees.
.
CBI issued statement on Sushant Singh Rajput's death anniversary, gave this important information about the case
Today is the first death anniversary of late Bollywood actor Sushant Singh Rajput. Remembering him today, his fans are demanding justice for him by getting the hashtag of his name trending on Twitter. Due to this, the CBI, which is investigating this case, has come forward and presented its statement while issuing its statement. A tweet by ANI said, "The investigation related to the death of Sushant Singh Rajput is on by the CBI and every aspect is being carefully looked into in this matter."
CBI investigation related to the death of actor Sushant Singh Rajput is still continuing and all the aspects of the case are being looked into meticulously: CBI official pic.twitter.com/l7KYvbz9Xe

— ANI (@ANI) June 14, 2021
(With SocialLY get the latest breaking news, viral trends and all the news related to the world of social media. Here you will get live information about every content that is going viral on Twitter, Instagram and YouTube. The post shown above is unedited content, which can be sent directly to social media. Taken from the accounts of media users. Not modified or edited by Latestly staff. Social media posts do not represent the views and sentiments of Latestly, We assume no responsibility or liability for any content contained in this post do not accept.)
Bhojpuri stars got emotional in his memory on Sushant's first death anniversary!
Bollywood actor Sushant Singh Rajput is no more in the world and today is his first death anniversary. Sushant passed away on this day. He was found dead in his flat on June 14, 2020. Now on his first death anniversary, hundreds of posts are coming on social media remembering him. People are remembering Sushant by posting fast. Sushant's fans are remembering him by sharing his pictures and videos, expressing their feelings towards him. This list includes stars from Bollywood to entertainment who are remembering Sushant today.
The same list also includes the Bhojpuri film industry where many actors have paid tribute to Sushant through social media and shared emotional posts. The list includes the names of actors Khesari Lal Yadav, Akshara Singh and many more who have posted messages for Sushant through social media. You can see Khesari Lal Yadav writes in his post: 'Sushant Bhai, I bow to you on your death anniversary. This post is not being written while sharing. I'm sad, my mind is broken. #RestInPower bro. #Sushant Singh Rajput'
Apart from him, Kajal Raghavani has written- 'Good people should die, but death cannot kill their fame', many such celebs have posted. You must be aware that Sushant Singh Rajput was found dead in his apartment in Mumbai's Bandra area and NCB is continuously taking action in the drugs case related to the actor's death and CBI is also investigating the matter.
.