Do this exercise to increase blood circulation in the body, it will also be effective in increasing oxygen level.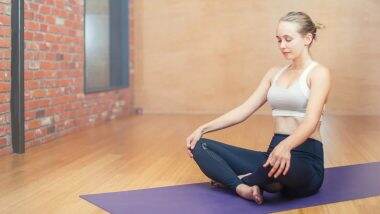 Yoga (Photo Credits: Pixabay)
The saying 'Do yoga, stay healthy' didn't just happen. Yes, yoga is most important for physical and mental healing. We should do yoga regularly. In this article, you will get information about how to improve blood circulation in the body through yoga. So let's start…
Blood circulation in the body is very important
Actually, we get a lot of benefit from doing just two actions of Sugam Yoga. The first task for this would be to create friction in the body. If you have seen someone doing yoga before, then you must have also seen that people meditate at the end of yoga practice and after that, while chanting Aum, rubbing the palms of both the hands together creates a circulation of energy in the body. We do. Practice these yoga kriyas regularly. This will improve the flow of blood in the body and energy will remain in your body for the whole day.
Do this exercise about 30 minutes before taking bath
In this regard, Acharya Pratishtha tells that about 30 minutes before the bath, we must do some actions to increase the circulation of blood in our whole body, which increases the circulation of blood in the body. For this, first you rub your palms together, after that repeat this action on the opposite side of the palms ie behind the palms. After that, do this action on your arms, shoulders, neck, chest, stomach and legs. In this way you practice this action on the whole body.
This benefit will be available in just 30 to 60 seconds
Everyone should do this action for about 30 to 60 seconds. After this, when you take a bath, you will find that energy is being circulated in a better way throughout the body. Due to this, the circulation of blood in our body will also happen properly and if the blood circulation in the body is correct then you remain healthy in every way. Also read: Ultimate Benefits of Elaichi For Men: These are the miraculous benefits of cardamom for men
Laugh openly five times a day
Apart from this, the second task is very easy. All you have to do for this is to laugh openly at least five times a day. We also call it Attahas i.e. 'Yoga Laugh'. Now let's know how to do it…
How to do this action?
For this, you laughed loudly while raising both your arms in the air or placing both hands on your knees. You have to do this simple task five times a day and you have to laugh like this without stopping for about 30 seconds. This will make your face pink, your skin will start glowing and the blood circulation of your body will be better.
Actually, by doing this, the flow of oxygen in our body increases and the capacity of the lungs also increases. You can keep yourself healthy by doing these two simple things while sitting at home. Along with this, you should drink well water regularly. Actually, when we drink less water then it brings many diseases. Therefore, do not let the lack of water in the body.
Problems are coming in married life, adopt these measures
Lifestyle. Friends, let us tell you that sometimes this dispute can be normal, but many times there are Vastu defects of the house, planetary defects, horoscope defects etc. Due to which there is an atmosphere of tension in the house, fights start over small things. Some such remedies have been given in astrology, by which married life becomes happy. Friends, you should also know about these uses.
Remedy-1
According to the scriptures, let us tell you that on Friday, Lord Vishnu and Lakshmi should be worshiped jointly and they should be offered sweets containing juice. Friends, after this this sweet should be accepted by both husband and wife as prasad. Friends, by doing this work, by the grace of Lord Vishnu and Mother Lakshmi, the problems of married life are gradually removed.
Remedy-2
Friends, let us tell you that if there is a dispute between husband and wife, due to which tension remains in married life, then the reason for this can be negative energy. Friends, for this, a little salt mixed with water should be wiped daily. According to the scriptures, before sleeping at night, burn camphor in the bedroom. Friends, this reduces the tension between husband and wife and brings sweetness in the relationship.
.
This Indian is famous all over the world by the name of blood man, who has donated 83 liters of blood
Strong and soft hair: Use these home remedies for strong and soft hair