Cyclone Tauktae: Cyclone 'Taukti', the first of the year, will cause conditions like torrential rains, thunderstorms in many states
Cyclone I Symbolic Photo (Photo Credits: PTI)
Cyclone Tauktae Latest Updates: The Indian Meteorological Department (IMD) has issued a warning on Thursday about the first cyclonic storm 'Tawkati' of the year. IMD said that due to 'talk', there will be strong rains and winds in many states. The alert said that the low pressure area over the Arabian Sea could turn into a cyclonic storm till May 16, causing heavy rainfall at some places in Goa and South Konkan region. Sindhudurg and Ratnagiri districts fall in the south Konkan region of Maharashtra. Cyclone Tauktae Live Tracker Map: The first cyclone of 2021 to hit the Arabian Sea, track here in realtime
The IMD said, 'Today, a low pressure area has formed in the Southeast Arabian Sea and Lakshadweep area. It is likely to intensify in the Lakshadweep area by Friday morning. "The warning report said that it will turn into a deep pressure area in the same region by Saturday morning and thereafter it will take the form of a cyclonic storm in 24 hours.
The Meteorological Department said that the cyclone is likely to move towards north-northwest Gujarat and the Pakistani coasts. IMD said that it can reach near the Gujarat coast by the evening of 18 May. In the southern states of Kerala and Tamil Nadu, heavy rains and thunderstorms are seen after this tension created in the Arabian Sea.
IMD Press Release on Low Pressure Area in Arabian Sea.#CycloneTauktae pic.twitter.com/O9H07yOPC0

– NDMA India | National Disaster Management Authority 🇮🇳 (@ndmaindia) May 13, 2021
Chance of heavy rain here
Due to the cyclonic storm, there will be light to moderate rain in many places in South Konkan and Goa region on Saturday and heavy to very heavy rain in some places on Sunday and Monday. Similarly, after May 17, there will be rain on the Gujarat coast. On May 18, heavy to very heavy rainfall is expected in Saurashtra and Kutch. Due to this, it is expected to rain in the region with winds running at a speed of 50 to 80 kilometers per hour in the next five-six days. According to the department, 64.5 millimeters to 115.5 mm in 24 hours. The rain is considered to be heavy rain.
Administration alert in Gujarat
Gujarat Chief Minister Vijay Rupani held a meeting on Wednesday about the possible cyclonic storm and directed the officials of the coastal districts to be vigilant and take necessary measures. Actually it is estimated that due to the cyclone in the east-central Arabian Sea, the coastal parts of Gujarat including Saurashtra and southern region may receive thunderstorms. However, there is no immediate warning of the impact that Gujarat will have on the cyclone.
Be Smart Be Prepared!#Cyclone Do's and Dont's #cyclonetauktae pic.twitter.com/EErSECQbje

– NDMA India | National Disaster Management Authority 🇮🇳 (@ndmaindia) May 13, 2021
Fishermen are being warned
The Fisheries Department of Tamil Nadu is trying to convey the message of about 2,500 fishermen to be alert to the stress of 'Taukati', a stress storm in the Arabian Sea and coming out of the sea. Most of the fishermen are from the west coast of Kanyakumari, as the east coast still has an annual ban on fishing.
According to fisheries department officials, only 84 ships have gone into the sea off Thangapatnam coast, 150 fishing boats from Kanyakumari have entered the sea off Kerala coast. The department is trying to contact them on the satellite phone provided by the state government, as they walk in groups in the high seas. Coordination centers opened by local churches and government are also helping. (With agency input)
All centrally protected monuments/sites and museums to be opened from June 16: Archaeological Survey of India
Protected monuments/sites and museums to be opened:
All Centrally protected monuments/sites and museums under ASI will be opened from 16th June: Archaeological Survey of India pic.twitter.com/Kig3w0AEEt

— ANI (@ANI) June 14, 2021
(With SocialLY get the latest breaking news, viral trends and all the news related to the world of social media. Here you will get live information about every content that is going viral on Twitter, Instagram and YouTube. The post shown above is unedited content, which can be sent directly to social media. Taken from the accounts of media users. Not modified or edited by Latestly staff. Social media posts do not represent the views and sentiments of Latestly, We assume no responsibility or liability for any content contained in this post do not accept.)
Inflation: Wholesale inflation hits record high of 12.94 per cent due to costlier fuel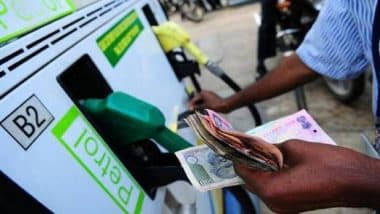 Representational Image | (Photo Credits: PTI)
New Delhi: Inflation based on wholesale prices rose to a record high of 12.94 per cent in May due to rise in prices of crude oil and manufactured goods. WPI inflation rose sharply in May 2021 due to the lower base effect. WPI inflation in May 2020 was negative 3.37 per cent. Petrol Diesel Price: Petrol reached beyond 100 in these states, know today's price in your cities
This is the fifth consecutive month that inflation based on the Wholesale Price Index (WPI) has increased. In April 2021, WPI inflation was in double digits to 10.49 percent. "The annual rate of inflation based on monthly WPI has increased to 12.94 per cent in May 2021 (as compared to May, 2020) from negative 3.37 per cent in May 2020," the commerce ministry said in a statement.
According to the statement, "The higher rate of inflation in May 2021 is mainly due to lower base effect and increase in the prices of petroleum products and manufactured products like petrol, diesel, naphtha, furnace oil etc. as compared to the corresponding month of last year. "
Inflation in fuel and power rose to 37.61 per cent during the period under review, from 20.94 per cent in April. Inflation in manufactured products stood at 10.83 per cent in May as against 9.01 per cent in the previous month.
Food inflation moderated marginally to 4.31 per cent in May. However, onions became expensive during this period. RBI in its monetary policy earlier this month kept interest rates at a record low and said it was committed to maintain a lenient policy to boost growth.
(This is an unedited and auto-generated story from a syndicated news feed, likely not modified or edited by the latest staff)
Revolt in LJP, Chirag Paswan's uncle Pashupati Kumar Paras was unanimously elected leader of the party parliamentary party in Lok Sabha
Pashupati Kumar Paras was unanimously elected as the leader of Lok Janshakti Party (LJP) parliamentary party in Lok Sabha.
Pashupati Kumar Paras unanimously elected as the Lok Janshakti Party (LJP) Parliamentary party leader in Lok Sabha; a meeting was held on 13th June.

(File photo) pic.twitter.com/2qNBAqiZhq

— ANI (@ANI) June 14, 2021
(With SocialLY get the latest breaking news, viral trends and all the news related to the world of social media. Here you will get live information about every content that is going viral on Twitter, Instagram and YouTube. The post shown above is unedited content, which can be sent directly to social media. Taken from the accounts of media users. Not modified or edited by Latestly staff. Social media posts do not represent the views and sentiments of Latestly, We assume no responsibility or liability for any content contained in this post do not accept.)