Covin not hacked, data of 150 million Indians safe: Researchers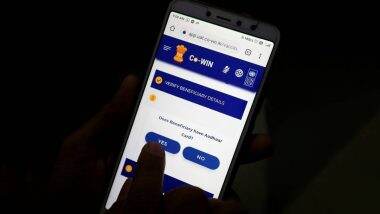 Kovin Portal (Photo Credits: PTI)
New Delhi, June 11 : After reports of India's vaccine registration portal CoWin being hacked and a database of 150 million people ready for sale, Indian cyber security researchers have now said that the website behind it itself is fake and it is a bitcoin. It's a scam. A hacker group called Dark Leak Market claimed through a tweet that they have a database of around 150 million Indians who have registered themselves on the Kovin portal and are reselling it for $800 as they originally did. Data is not leaked from.
Independent cyber security researcher Rajasekhar Rajhariya told IANS that the hacking group's website is fake and they are running a bitcoin scam. "Kovin has not been hacked because the so called hacking group is listing fake leaks. It is a bitcoin scam and people should not fall prey to these hackers. Kovin data is safe," Rajhariya told IANS. Earlier, French security researcher Baptiste Robert aka Elliot Alderson also retweeted the post by Dark Leaks Market, but later deleted it. Also read: Earthquake: Earthquake shook by 3.6 magnitude earthquake in Arunachal Pradesh, no loss of life and property reported
So far, more than 237 crore people in India have been vaccinated against Kovid-19. To facilitate access to immunizations for persons with disabilities, the central government this week directed all states and union territories to include Unique Disability Identification (UDID) cards in the list of photo identity documents prescribed for COVID-19 vaccination registration. . As per the guidance note on CoVin 2.0 released on March 2 this year, seven prescribed photo identity cards were assigned and prescribed for verification of the beneficiary before vaccination. To reduce the errors and subsequent inconveniences in online appointments for vaccination, the government last month introduced a new feature of four-digit security code in the CoVin application.
Door-to-Door Vaccination: Bikaner will be the first city in the country to give vaccine to people from door to door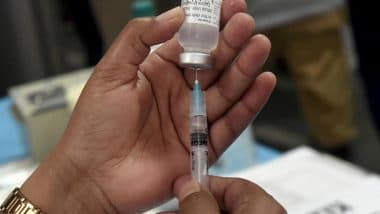 Corona Vaccine (Photo credits: PTI)
Jaipur: Bikaner in Rajasthan is going to become the first city in the country to launch a door-to-door COVID Vaccination campaign. Starting from Monday, this campaign will be for people above the age of 45. In Bikaner, two ambulances and three mobile teams are ready to go to the doorsteps of the people. The Rajasthan government has started a helpline for this. People can register themselves for the Kovid-19 vaccine by providing their name and address through WhatsApp number.
According to the report, the vaccine van will reach people's homes only when at least 10 people have registered for the vaccine. so that the dose is not wasted. One vial of Kovid-19 vaccine can be given one dose to ten people.
Bikaner District Magistrate Namit Mehta told reporters that experts are anticipating a third wave of the corona virus epidemic. Namit Mehta said, 'Our target is to give the vaccine to 75 percent of the people above 45 years of age. Therefore, this process of giving vaccine at home can prove to be very effective.
Bikaner Collector Namit Mehta said that according to the 2011 census the population of the city is more than seven lakhs and so far about 369,000 people have been vaccinated.
Namit Mehta said that "there are many barriers in going to the vaccination centers for the age group above 45, especially for the elderly and women. So this initiative of getting people vaccinated at their homes was agreed by many."
Assam: 2 sisters found hanging in village, family alleges rape and murder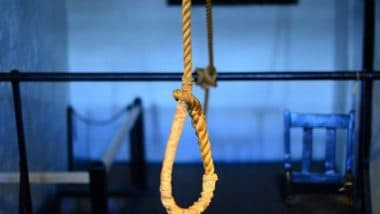 Symbolic photo (Photo Credits: Pixabay)
Guwahati, June 13 : In Kokrajhar district of western Assam, two sisters were found hanging from a tree located in their own village. The police gave this information on Saturday. The families of the victims, however, alleged that the two girls, who were missing since Friday afternoon, were raped before being killed.
Police have told that the girls are 14 and 16 years old. The bodies of the girls were found hanging from a tree on Friday night in the forest of Abhayakuti village, police said. Also read: Karnataka: Corona infection slowed down, patients recovering fast
The bodies have been sent to Kokrajhar Civil Hospital for post-mortem. Police have registered a case and started investigation. So far no arrest has been made in connection with the incident.
PM addresses G-7 session, calls for 'One Earth, One Health' approach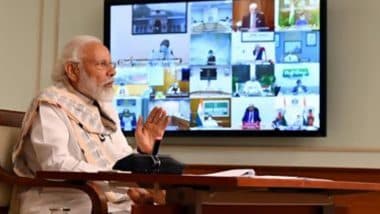 Narendra Modi ( photo credit : twitter )
New Delhi, June 13 : Prime Minister Narendra Modi, while addressing a session of the G-7 summit in a digital manner on Saturday, called for adopting a "one earth, one health" approach to effectively deal with the corona virus epidemic. . He also urged the support of G-7 countries to give up patents for anti-COVID-19 vaccines. Calling for global solidarity, leadership and coordination to prevent future pandemics, Modi emphasized the special responsibility of democratic and transparent societies to meet the challenge, according to an official release.
German Chancellor Angela Merkel supported Modi's call to adopt a 'one earth, one health' approach, sources said. He said that Australia and some other countries have also strongly supported Modi's call for exemption on patents to increase production of Kovid-19 vaccines. India and South Africa have proposed this in the World Trade Organization. Prime Minister Modi also called for the G-7's support for the WTO proposal by India, South Africa regarding patent exemption on COVID related technologies. Addressing the 'Building Back Stronger-Health' interaction session of the G-7, Prime Minister Modi outlined India's vision of a 'holistic society' to tackle the pandemic and synergy of efforts at every level of government, industry and civil society. told about. Also read: Karnataka: Corona infection slowed down, patients recovering fast
In his address, Modi called for the support of the G-7 countries on a proposal submitted by India and South Africa for exemption on COVID related technologies in the WTO. "The Prime Minister pledged India's support for collective efforts to improve global health governance," the release said. He also called for the support of the G-7 on the proposal made by India and South Africa to the World Trade Organization (WTO) for TRIPS (Exemption on Business Aspects of Intellectual Property Rights) on COVID related technologies. The Prime Minister said that today's meeting should send the message of 'One Earth, One Health' to the whole world. Also read: Jammu and Kashmir: Lieutenant Governor Manoj Sinha will participate in the Bhoomi Pujan ceremony of Sri Venkateswara Swamy Temple in Jammu today
The G-7 includes Britain, Canada, France, Germany, Italy, Japan and the United States. Britain, which is chairing the G-7, has invited India, Australia, South Korea and South Africa as guest countries. Modi tweeted, "Attended the session of the G-7 conference on health. Thank you partners for their cooperation during the recent wave of COVID-19. India supports global action to prevent future pandemics. Our message to humanity is 'one earth, one health'." During the session, Modi appreciated the help extended by the G-7 and other visiting countries during the recent wave of Kovid-19 in India. "The prime minister also spoke about the successful use of open source digital systems for contact tracing and vaccine management and expressed his desire to share his experience and expertise with other developing countries," the release said. The Prime Minister will also participate on the concluding day of the G-7 summit on Sunday and will address two sessions.