COVID-19 Symptoms: If the nails seem to change something, then be careful: Is it because of Kovid?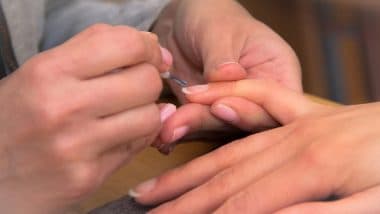 Nails ( photo credit : pixabay )
Norwich (UK), 8 June : (The Conversation) The main symptoms of COVID-19 (COVID-19) are fever, cough, fatigue and loss of sense of taste and smell. Symptoms of Kovid-19 have also been seen in the skin. But there is another part of the body where the virus has an effect and that is your nails. Following a COVID-19 infection, some patients may have discolored nails or change their shape several weeks later – this is called "Covid Nails". One symptom is the formation of a red crescent moon at the base of the nails. It appears to have been present before other nail complaints associated with COVID, with patients having seen it less than two weeks after being diagnosed with a COVID infection. There have been many cases – but not many.
This type of red crescent-moon shape on the nail is usually rare, and has not been seen so close to the base of the nail before. Therefore, this appearance of this shape can be an indication of infection of Kovid-19 in particular.
One possible reason why this crescent is formed on the nail could be damage to the blood vessel associated with the virus. Or it could be due to the immune response against the virus causing tiny blood clots to form and discoloration of the nail. Importantly, these marks are nothing to worry about if the patient is asymptomatic – although it is not clear how long they last. In the reported cases, it was a week in some and four weeks in some.
physical stress symptoms
Some patients also noticed new, distinct lines at the base of the fingernails of their hands and toes, which usually appear four weeks or more after COVID-19 infection. These lines usually occur when there is a temporary blockage in nail growth due to some kind of physical stress, such as infection, malnutrition or the side effects of chemotherapy etc. Now it can also be due to Kovid-19. Nails grow between 2 mm and 5 mm on average each month, with these lines becoming noticeable four to five weeks after physical stress – becoming visible as the nail grows. Therefore, the timing of the stressful event can be estimated by looking at how far these lines are from the base of the nail. There is no specific treatment for these lines, as they tend to get better once the problem is resolved.
Currently, the available evidence suggests that there is no association between the severity of the COVID-19 infection and the type or time frame of nail changes.
other unusual findings
The above facts are associated with two common nail changes due to COVID infection, but the researchers also recorded some other unusual events. A female patient's nails became loose from the base and eventually fell out three months after her infection. This phenomenon is known as onychomadesis. This patient did not receive treatment for these changes, yet new nails could be seen growing under the nails that had fallen due to the disease, indicating that the problem had started to resolve on its own. In another patient, after 112 days of being found infected, orange marks were seen on his nails. No treatment was given for this and even after a month this scar had not reduced. The underlying reason behind this is unknown. In the third case, white lines appeared on the nails of a patient. These are known as mess lines or transverse leukonychia. She appeared 45 days after the confirmation of the infection of Kovid-19. These nails heal as they grow and do not require treatment. Also read: Government issued new SOP for Kovid vaccination of people going abroad
Although we are seeing changes in nails in all three of these situations with the infection of Kovid-19, but we have a small number of patients in each case, so it is not possible to say that they were due to the disease. It is entirely possible that all three have nothing to do with this situation. In fact, there is still a long way to go to confirm such symptoms are definitely linked to the symptoms of Kovid-19. We will need many more cases for this. It is important to remember that not all patients with COVID-19 will have this nail condition. And some of these abnormalities may not mean that someone has got COVID-19. It would be better if we treat these as possible symptoms of a past infection – and not definitive evidence.
Maharashtra: Sanjay Raut's big statement, said- Uddhav Thackeray will remain CM for 5 years, after two and a half years told the news of change of chief minister as rumor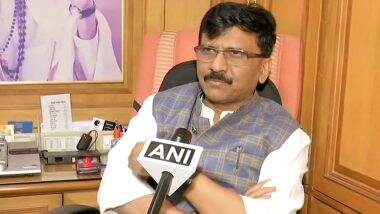 Shiv Sena MP Sanjay Raut (Photo Credits-ANI)
Mumbai: In Maharashtra, it seems that all is not well in the Maharashtra Mahavikas Aghadi alliance. Because news was flying about Maharashtra Mahavikas Aghadi government that the CM of Shiv Sena would be changed after 2.5 years. Regarding these reports, Shiv Sena spokesperson Sanjaya Raut said in a conversation with the media on Sunday that whatever news is flying about the Maharashtra government is a rumour. When 3 parties formed the government, they committed and decided that CM would be Uddhav Thackeray for 5 years.
Actually, where the closeness between Shiv Sena and NCP is increasing on one side. At the same time, the Congress included in the government is feeling isolated in this alliance. The latest example of this is the statement of Congress state president Nana Patole in which he has spoken of fighting alone in all the coming elections. Patole has said that the Congress will fight all alone from the local body elections to the assembly elections. Also read: Shiv Sena was considered a slave in the previous BJP government in Maharashtra: Sanjay Raut
Sanjay Raut told the news a rumour:
It's a rumor that Shiv Sena CM will be replaced after 2.5 years. When 3 parties formed govt, they committed & decided that CM will be Uddhav Thackeray for 5 years. If someone talks about this, then it is nothing but lie & rumor: Shiv Sena leader Sanjay Raut pic.twitter.com/0jYpBGpcYT

— ANI (@ANI) June 13, 2021
Let us tell you that there is a government in Maharashtra consisting of three parties, Congress, NCP and Shiv Sena. Uddhav Thackeray is the Chief Minister from Shiv Sena in the alliance of the three parties. But in recent times it has been seen that there is a tussle going on in Maharashtra Mahavikas Aghadi. Except Shiv Sena, there are allegations of Congress leaders in Congress and NCP. They are not consulted before taking any major decision.
Update Weather: Chances of rain and thunderstorms in next three to four days in Rajasthan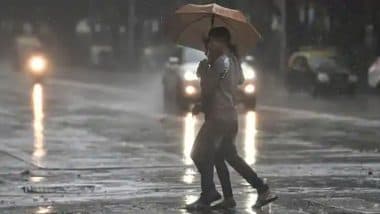 rain | Symbolic Image (Photo Credits: PTI)
Jaipur, June 13 : In Rajasthan's Bikaner, Jaipur, Bharatpur, Jodhpur, Udaipur and Kota divisions, there is a forecast of rain with half in the next three-four days and a drop of two to three degrees Celsius in most parts of the temperature. Director of Jaipur Meteorological Station R. s. Sharma said that there is a possibility of heavy rain with thunderstorm / dust storm in some parts of North Rajasthan on Sunday. In the districts of Bikaner, Jaipur and Bharatpur divisions, there is a possibility of sudden strong winds, dust storm (wind speed 40 to 50 kmph) accompanied by thunderstorms. During this, there is a possibility of thunderstorms at some places in these districts.
Apart from this, thunderstorms are expected to continue for the next three-four days, he said. On June 15, once again there will be an increase in the activities of thunderstorms in Jodhpur and Bikaner divisions of western Rajasthan. During this, strong thunderstorms, wind speed up to 40 to 60 kilometers per hour can be recorded. According to Sharma, there is a strong possibility of heavy rain with thunderstorm on June 15-16 in the districts of Ajmer, Jaipur, Bharatpur Kota division. In Udaipur and Kota divisions also, rain with thunderstorm is expected on June 15-16-17. According to the Meteorological Department, in the last 24 hours, three centimeters in Dholpur in East Rajasthan, three centimeters in Rupbas in Bharatpur, two in Basedi in Dholpur, two in Sapou in Dholpur, Gangapur in Sawai Madhopur, Bamanwas, Bhuhana in Jhunjhunu, Behrod in Alwar, Kotkasim. One centimeter rain was recorded in Rajkheda in Dholpur and one centimeter in Rawatsar, Bhadra and Tibi of Hanumangarh in western Rajasthan. Also read: COVID-19 Update: 255 new cases of Kovid-19 surfaced in the national capital Delhi, 23 patients died
According to the department, Sawai Madhopur and Bundi were the hottest places in the last 24 hours with a maximum temperature of 44 degrees Celsius till Sunday morning. The maximum temperature was recorded at 43.9 in Pilani, 43.6 in Churu, 43.5 in Karauli, 43.2 in Kota, 42.8 in Ganganagar, 42.3 in Pali, 41 in capital Jaipur and below 40 degree Celsius at other major places. At the same time, the minimum temperature in most parts of the state was recorded in the range of 30.9 degree Celsius to 24.1 degree Celsius.
COVID-19 Update: 255 new cases of Kovid-19 surfaced in the national capital Delhi, 23 patients died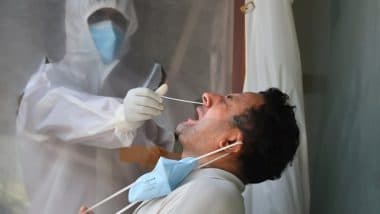 Person getting tested for Corona (Photo: PTI)
New Delhi, June 13 : The lowest number of 255 new cases of coronavirus were reported in the national capital on Sunday since April 7, and 23 patients died and the infection rate came down to 0.35 percent. According to the bulletin of the Health Department, with the death of 23 patients on Sunday, 24,823 people have lost their lives due to this epidemic in the national capital.
The lowest number of 213 new cases were reported in Delhi since March 9 on Saturday, 238 on Friday, 305 on Thursday and 337 on Wednesday. Due to this infection in the city, 28 people lost their lives on Saturday, 24 on Friday, 44 on Thursday and 36 on Wednesday. Also read: Dr. Indira Hridayesh Death: Senior Congress leader Dr. Indira Hridayesh is no more, Rahul Gandhi expressed grief
According to government data, the infection rate in the national capital was 0.3 on Saturday and Friday, 0.4 on Thursday and 0.5 percent on Wednesday.