COVID-19 pandemic TV actress Raashi Khanna joins hands with Roti Bank, will give food to the needy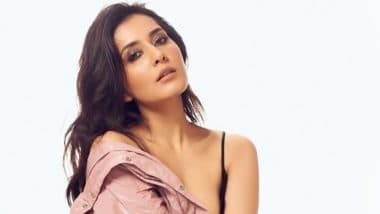 RAASHI KHANNA ( photo credit Instagram)
India is currently going through a very bad health crisis. In the coming days, Kovid 19 (COVID-19) is bringing new problems. In such difficult times, it is necessary that we all go ahead and try to help the needy in every possible way. In such a situation, the actress will help the poor families on whom this epidemic has left a deep impact due to the lockdown. Rashi is actively working to help the needy people in this hour of crisis. Under Rashi's initiative #BeTheMiracle, we are working to deliver food to the needy. She is working tirelessly to help those who have lost their livelihood in this time of covid.
Rashi is engaged in serving this noble cause silently without informing anyone. In such a situation, she has agreed to disclose this at the behest of her family and friends so that kind people with common mindedness come forward to be a part of this initiative and serve the needy. Along with #BeTheMiracle, Rashi is associated with organizations and volunteers like Roti Bank who are helping animals that were left without food or water, especially during the lockdown. Also, they are ready to serve some old age homes. After working in this field, he realized that donation from friends and family is not enough, it is like a drop of water in the ocean. His team has documented a video depicting the current reality which it is hoped will encourage people to come forward and help. Also read: Delhi: BJP MLA Suvendu Adhikari meets Home Minister Amit Shah, discusses violence in West Bengal
Regarding this initiative, Rashi Khanna believes, "The condition of the people suffering from the pandemic is heartbreaking. Through #BeTheMiracle, I am trying to help people in every possible way. I am fortunate to have such a team. I have got the support of those who are so brave, that even in this pandemic, they are coming out of the house and bringing out the problems of the people. Many families are on the verge of starvation who are going through really bad times. I want that People donate generously, every straw matters. It doesn't have to be an exorbitant amount. We should realize that we are all in this together and it is only by being together that we can overcome this difficult time. And together we can bring miracles to anyone's life."
Sensex Update: Sensex breaks more than 300 points in early trade, Nifty slips below 15,700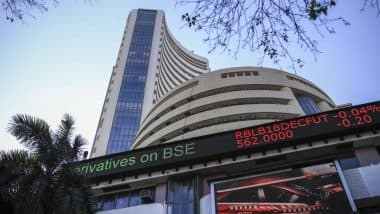 Symbolic Image (Photo Credits: Twitter)
Mumbai, June 17 : Major stock index Sensex fell over 300 points in early trade on Thursday, led by losses in big stocks like HDFC, ICICI Bank and Reliance Industries amid negative trend in global stock markets. During this, the 30-share BSE Index was trading at 52,199.18, down 302.80 points or 0.58 per cent. Similarly, the broader NSE Nifty fell 93.70 points or 0.59 per cent to 15,673.85.
The biggest one percent fall in the Sensex was in Tech Mahindra. Apart from this, PowerGrid, HDFC, HDFC Bank and Axis Bank were also in the red mark. On the other hand, Asian Paints, Sun Pharma, UltraTech Cement and HCL Tech were among the top gainers. In the previous session, the Sensex was down 271.07 points or 0.51 per cent at 52,501.98 and the Nifty was down 101.70 points or 0.64 per cent at 15,767.55. Also read: Sensex Update: Sensex rises 250 points in early trade, Nifty crosses 15,800
According to provisional data of the stock market, foreign institutional investors (FIIs) sold shares worth Rs 870.29 crore on a gross basis on Wednesday. International oil benchmark Brent crude was trading 0.54 per cent lower at $73.99 per barrel.
Ahmedabad: Cash worth lakhs faded in front of honesty of housekeeping worker JK Chavda, returned bag full of cash
Jeki Chavda (Photo Credits: Twitter)
Ahmedabad, June 17: Jeki Chavda, a housekeeping worker at the Sardar Vallabhbhai Patel International (SVPI) airport in Ahmedabad, showed utmost care and sincerity when she found a bundle of foreign currency worth $750 in a transparent zip-lock bag. Jackie Chavda took the bag to CISF personnel for security check, they found the passenger who had forgotten it. The incident happened on Wednesday evening around 5 pm. Chavda found the bag containing the foreign currency while he was cleaning the tray at the security check counter after it was used by the passengers. "While cleaning the trays, I found a bundle of cash in a plastic bag in one of them. I immediately knew that some passenger might have forgotten it. So I went and handed it over to the CISF personnel at the security check counter," he told TOI As quoted by the employee.
CISF personnel immediately started checking the CCTV footage to find out the real owner of the cash. They identified some potential passengers who may have forgotten the bags. CISF officials soon contacted the identified passengers and after verification found the flyer who had forgotten the cash.
View Tweet:
This is Jackie Chavda, @ahmairport But there is a cleaner, during cleaning, 750 dollars kept in plastic bags were found.

Which was more than his salary for several months. Despite this, the faith did not waver and that bag #CISF given to the soldiers.

The soldiers tracked the system and took the dollars to the original owner.#hero pic.twitter.com/wgOFIQBsG1

— Janak Dave (@dave_janak) June 16, 2021
The passenger was flying to Mumbai on an Indigo flight. The bag reached him when he was about to board the flight. Chavda was praised for his honesty and professionalism. Describing Chavda as a hero, a Twitter user said that the cash found in the bag was more than Chavda's monthly salary. However, money couldn't shake his honesty, commented a Twitter user.
Delhi High Court: Court defers release of three activists accused of Delhi riots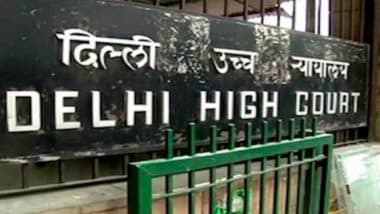 Symbolic Image (Photo Credits: PTI)
New Delhi, June 17 : A Delhi court on Wednesday deferred the release of February 2020 riots accused activists Devangana Kalita, Natasha Narwal and Asif Iqbal Tanha, who were granted bail by the Delhi High Court on June 15. . After the High Court granted bail to the three accused, they moved the trial court seeking their immediate release as of 1 pm. The High Court had fixed the time limit. He has also been ordered to be released on a personal bond of Rs 50,000 each and two sureties of like amount.
Karkardooma Court Additional Sessions Judge Ravinder Bedi said the court would pass the order at 11 am on Thursday. It had sought a verification report from the Delhi Police, posting the matter for Wednesday. On Wednesday, the investigating officer sought more time from the court to verify the addresses of the accused and their sureties. The counsel representing the accused submitted before the court that the verification report was not filed despite time being given to the investigating officer. After hearing the arguments of both the sides, the court reserved the order. Also read: Tragic accident in Bihar's Muzaffarpur, car returning from procession fell in Baya river, 3 people died
Granting bail to the three accused, a High Court bench comprising Justices Siddharth Mridul and Anoop Jairam Bhambhani said, "We are constrained to express that it appears that in the concern of suppressing dissent, there is a constitutionally guaranteed opportunity to protest." The line between authority and terrorist activity seems to be blurring. If this mindset gets a boost, it will be a sad day for democracy. Meanwhile, Delhi Police has filed an appeal in the Supreme Court challenging the bail granted by the Delhi High Court to the three activists, seeking a stay of the order.