COVID-19: 238 new cases of corona, 24 deaths in Delhi in last 24 hours
In the last 24 hours in Delhi, 238 new cases of corona were reported and 24 people died.
Delhi reports 238 new #COVID19 cases, 504 recoveries and 24 deaths in the last 24 hours.

Total cases 14,30,671

Total recoveries 14,01,977

Death toll 24,772

Active cases 3922 pic.twitter.com/Wfh9NHYFes

— ANI (@ANI) June 11, 2021
(With SocialLY get the latest breaking news, viral trends and all the news related to the world of social media. Here you will get live information about every content that is going viral on Twitter, Instagram and YouTube. The post shown above is unedited content, which can be sent directly to social media. Taken from the accounts of media users. Not modified or edited by Latestly staff. Social media posts do not represent the views and sentiments of Latestly, We assume no responsibility or liability for any content contained in this post do not accept.)
Petroleum Minister Dharmendra Pradhan said, Congress ruled states should reduce tax on petrol, diesel, kept silence on BJP ruled states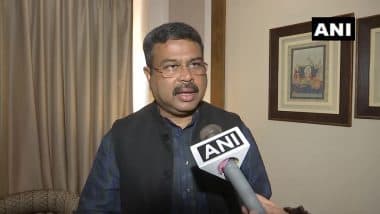 Union Minister Dharmendra Pradhan (Photo Credits-PTI)
New Delhi, June 13 : With petrol and diesel prices reaching record levels, Petroleum Minister Dharmendra Pradhan on Sunday said Congress-ruled states like Rajasthan and Maharashtra should cut taxes on vehicle fuel. However, he remained silent on whether states like BJP-ruled Madhya Pradesh and Karnataka would do the same, where petrol has crossed Rs 100 per litre. Pradhan said that if the Congress is worried about the rising burden of vehicle fuel prices on the common man, then it should cut sales tax on petrol and diesel in the states ruled by it.
Petrol has become costlier by Rs 5.72 per liter and diesel by Rs 6.25 per liter in less than the last six weeks. Auto fuel prices have reached record highs due to rising international crude oil prices and high central and state taxes. Indraprastha Gas Ltd. Talking to reporters after inaugurating the oxygen plant set up by Maharaja Agrasen Hospital, Pradhan said that the central and state governments need additional money from taxes on petrol, diesel to fight the pandemic and other development works. Also read: Karnataka: Policemen thrashed mentally challenged man, eight personnel suspended
He acknowledged that vehicle fuel prices were hurting consumers. Congress leader Rahul Gandhi is a constant attacker on the Narendra Modi government regarding vehicle fuel prices. To a question about this, Pradhan said why fuel is expensive in Maharashtra, Rajasthan and Punjab. "If Rahul Gandhi is concerned about the impact of vehicle fuel prices on the poor, he should ask chief ministers to cut taxes on fuel in Congress-ruled states," he said. BJP-ruled states like Karnataka will also do the same, where the price of petrol has crossed Rs 100 per liter due to local taxes.
Karnataka: Policemen thrashed mentally challenged man, eight personnel suspended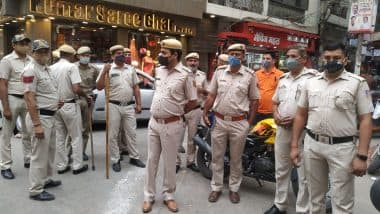 Police (Photo Credits: Twitter)
Madikeri (Karnataka), June 13 : A 50-year-old mentally challenged man was allegedly thrashed to death by policemen in Madikeri city last week for violating lockdown rules. A senior police official said on Sunday that eight policemen have been suspended following the incident. Karnataka Southern Range Inspector General of Police Praveen Madhukar Pawar told reporters here that a case was registered against the policemen on the complaint of Robin D'Souza, the brother of the deceased.
He said that the Deputy Superintendent of Police of Virajpet submitted a report against eight policemen, on the basis of which all of them have been suspended. Pawar said, "Investigation is being done by the sub-divisional officer (SDM). As per the guidelines of the National Human Rights Commission, we are handing over the matter to the CID." Family members told that Roy D'Souza was mentally challenged and was living with his mother while his brother Robin was in Bengaluru. Also read: Mumbai: NCB raids Bakery in Malad, cake-pastry mixed with drugs and supplied to high profile people
They told that Roy ran away from his house late on June 8. The policemen saw him roaming around and questioned him for violating the rules of lockdown and beat him up. The family said that on the morning of June 9, his mother was called to the police station, where Roy was lying unconscious. He was first taken to the local private hospital and then to the district hospital where he died. He told that as soon as he got information about the incident, Robin came to Madikeri and lodged a complaint with the Superintendent of Police, Kshama Mishra.
Congress MLA accuses government of tapping MLAs' phones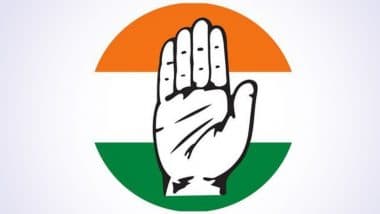 Symbolic Image (Photo Credits: Twitter)
Jaipur, June 13 : Congress MLA Ved Prakash Solanki has accused the Ashok Gehlot-led state government of tapping the phones of some MLAs. Without naming any of the MLAs who complained about the phone tapping, Solanki, a staunch supporter of Congress leader Sachin Pilot, said the MLAs fear being trapped by agencies. Congress MLA from Chaksu assembly constituency of Jaipur, Solanki told reporters, "I don't know whether my phone has been tapped or not. Some MLAs told me that their phones were being tapped. I do not even know whether the state government is involved in phone tapping or not. Several officials have alerted them (MLAs) that it seems that an attempt is being made to implicate them.
He further said, "Some of these MLAs have also informed the Chief Minister about the matter." He said that he does not know whether the MLAs have technical knowledge or not or there is any such app through which they can get their phones tapped. Information has been received. On the statement of the MLA, the opposition BJP said that the Congress is intimidating its own MLAs. BJP state president Satish Poonia tweeted, "Today again a Congress MLA is saying that 'many MLAs are saying that their phones are being tapped, they are being spied on', Congress should tell who are these MLAs? He said, on the lines of "So Jaa Beta Gabbar Aa Jayega", the Congress is scaring its own MLAs. Tell Congress when Gabbar will come? Also read: Mumbai: NCB raids Bakery in Malad, cake-pastry mixed with drugs and supplied to high profile people
Deputy Leader of Opposition in the Assembly Rajendra Rathod said, "Gehlot government is again scaring public representatives." The pain is evident. Do not know when what will happen…" It is worth noting that in July last year, Pilot and 18 Congress MLAs had revolted against Chief Minister Ashok Gehlot. He had leveled many allegations against the government including illegal phone tapping. During that time, Gehlot's Officer-in-Charge (OSD) Lokesh Sharma shared some audio clips of telephonic conversations, which gave rise to these allegations.