COVID-19: 14,152 new cases of corona in Maharashtra in last 24 hours, 973 new cases in a day in Mumbai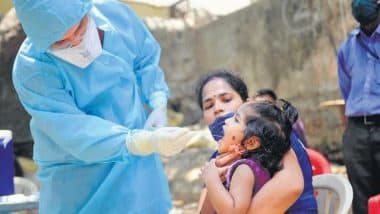 Corona's havoc (Photo Credits: PTI)
COVID-19: 14,152 new cases of corona in Maharashtra in last 24 hours, 973 new cases in a day in Mumbai
COVID19 | 973 new cases, 24 deaths and 1,207 recoveries reported in Mumbai today; active cases at 16,347 pic.twitter.com/ghboQwa5jR

— ANI (@ANI) June 4, 2021
Tamil Nadu Unlock: CM MK Stalin's big statement, said – relaxation will be withdrawn if the rules are not followed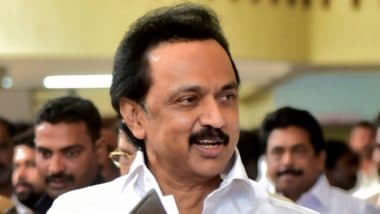 CM MK Stalin (Photo credits: ANI)
Chennai: Tamil Nadu Chief Minister MK Stalin has warned the people of the state that if the Corona Protocol is not followed, the relaxations implemented from Monday can be withdrawn. In a video appeal released on June 14, the Chief Minister of Tamil Nadu said that the norms have to be followed with relaxation in the lockdown, failing which the lockdown can be withdrawn at any time. Tamil Nadu: Permission has been given to open parks, salons, beauty parlors, spas and tea shops from 6 am to 5 pm from today in 27 districts including Chennai.
Stalin said if people follow the rules, the state can go ahead and steps can be taken to open schools and colleges along with allowing the service of public transport.
However, he thanked the people of Tamil Nadu for adhering to the restrictions during the last few weeks and said that the restraint shown by the people has helped in reducing the number of COVID positive cases.
The Chief Minister of Tamil Nadu also said that people should not ignore the norms of Kovid. He also called upon people not to crowd in front of tea shops. He also said that despite heavy criticism, the government has opened liquor shops to prevent people from consuming illegal and smuggled liquor.
Karnataka: Yediyurappa government will give Rs 1 lakh if ​​a working member of a BPL family dies of COVID
In Karnataka, on the death of an adult working member of a Below Poverty Line (BPL) family, a compensation of Rs.
If an adult working member from a Below Poverty Line (BPL) family dies due to COVID, one member will get Rs 1 lakh compensation: Karnataka CM BS Yediyurappa

(file photo) pic.twitter.com/7UNnjnsEPo

— ANI (@ANI) June 14, 2021
(With SocialLY get the latest breaking news, viral trends and all the news related to the world of social media. Here you will get live information about every content that is going viral on Twitter, Instagram and YouTube. The post shown above is unedited content, which can be sent directly to social media. Taken from the accounts of media users. Not modified or edited by Latestly staff. Social media posts do not represent the views and sentiments of Latestly, We assume no responsibility or liability for any content contained in this post do not accept.)
All centrally protected monuments/sites and museums to be opened from June 16: Archaeological Survey of India
Protected monuments/sites and museums to be opened:
All Centrally protected monuments/sites and museums under ASI will be opened from 16th June: Archaeological Survey of India pic.twitter.com/Kig3w0AEEt

— ANI (@ANI) June 14, 2021
(With SocialLY get the latest breaking news, viral trends and all the news related to the world of social media. Here you will get live information about every content that is going viral on Twitter, Instagram and YouTube. The post shown above is unedited content, which can be sent directly to social media. Taken from the accounts of media users. Not modified or edited by Latestly staff. Social media posts do not represent the views and sentiments of Latestly, We assume no responsibility or liability for any content contained in this post do not accept.)