Corona Vaccination: New vaccine policy came after weeks of evaluation and deliberation – Government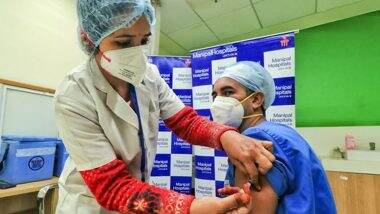 Symbolic Image (Image Credits: File Image)
New Delhi: The government on Tuesday said it was evaluating the implementation of the decentralized model of vaccination since its inception on May 1 and the decision to re-centralize it was taken after requests from some states and detailed deliberations. . The government's remarks came amid claims by the opposition that the policy was changed due to the intervention of the Supreme Court. Prime Minister Narendra Modi had announced on Monday that the Center would take over the procurement quota of the states and vaccines would be made available to the states free of cost for people above the age of 18 years.
When asked whether the new immunization guidelines were issued after the intervention of the Supreme Court, NITI Aayog member (health) VK Paul said, "We respect the Supreme Court's guidance and concern, but the government will be on May 1. was evaluating the implementation of the decentralized model from Paul said that during the last one month 12 states including Maharashtra, Kerala, Sikkim, Rajasthan, Jharkhand, Odisha and Andhra Pradesh requested that there should be centralized procurement of vaccines so that the program can be implemented in a concerted manner. Paul said such decisions are not made "overnight" and the new guidelines are based on consultation, analysis, feedback and experience with various stakeholders.
Referring to the new guidelines, Paul said states wanted to be involved in the implementation and procurement of the program and also had flexibility with regard to priority groups. He said, "Keeping this in mind, a system was created to increase the pace of vaccination and under that it was decided in May that 50 percent of the vaccines would be procured by the Center while 50 percent would be procured by the state and private sector." Will.
He assured that the new guidelines will be instrumental in taking the vaccination program forward.
Regarding the situation of the epidemic, Paul said that the decline in new cases is due to discipline and social behavior. He said that there is discipline at all levels of the central and state and local government. Now we will be passing through a critical phase as restrictions are gradually eased so that the cases do not increase again, so we need to follow the appropriate covid behavior.
Health Ministry's Joint Secretary Lav Aggarwal said that there has been a decline of about 79 percent in the daily new cases since reaching the peak on May 7. In relation to the second wave of Kovid, he said that there has been a steady and rapid decline in the daily new cases. Agarwal said that there have been 20,822 cases of corona virus per million population in India and 252 deaths, which is one of the lowest figures in the world.
To prevent any further wave of corona in future, the government insisted on following appropriate COVID practices till the population is vaccinated. The government also stressed the need to avoid crowded conditions for a few months. However, some states have announced relaxation in the lockdown in view of the decreasing number of new cases.
AIIMS Director Randeep Guleria said, "We need to follow appropriate COVID practices till we can say that a significant portion of our population has been vaccinated. When enough people have been vaccinated. If natural immunity is developed then these waves will stop.He further said that there is no data or evidence to suggest that if the next wave of Kovid comes, it will affect children more.
(This is an unedited and auto-generated story from a syndicated news feed, likely not modified or edited by the latest staff)
Petroleum Minister Dharmendra Pradhan said, Congress ruled states should reduce tax on petrol, diesel, kept silence on BJP ruled states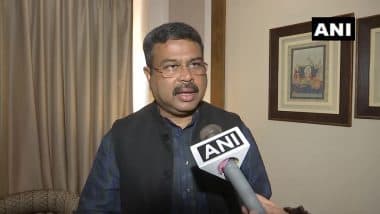 Union Minister Dharmendra Pradhan (Photo Credits-PTI)
New Delhi, June 13 : With petrol and diesel prices reaching record levels, Petroleum Minister Dharmendra Pradhan on Sunday said Congress-ruled states like Rajasthan and Maharashtra should cut taxes on vehicle fuel. However, he remained silent on whether states like BJP-ruled Madhya Pradesh and Karnataka would do the same, where petrol has crossed Rs 100 per litre. Pradhan said that if the Congress is worried about the rising burden of vehicle fuel prices on the common man, then it should cut sales tax on petrol and diesel in the states ruled by it.
Petrol has become costlier by Rs 5.72 per liter and diesel by Rs 6.25 per liter in less than the last six weeks. Auto fuel prices have reached record highs due to rising international crude oil prices and high central and state taxes. Indraprastha Gas Ltd. Talking to reporters after inaugurating the oxygen plant set up by Maharaja Agrasen Hospital, Pradhan said that the central and state governments need additional money from taxes on petrol, diesel to fight the pandemic and other development works. Also read: Karnataka: Policemen thrashed mentally challenged man, eight personnel suspended
He acknowledged that vehicle fuel prices were hurting consumers. Congress leader Rahul Gandhi is a constant attacker on the Narendra Modi government regarding vehicle fuel prices. To a question about this, Pradhan said why fuel is expensive in Maharashtra, Rajasthan and Punjab. "If Rahul Gandhi is concerned about the impact of vehicle fuel prices on the poor, he should ask chief ministers to cut taxes on fuel in Congress-ruled states," he said. BJP-ruled states like Karnataka will also do the same, where the price of petrol has crossed Rs 100 per liter due to local taxes.
Dr. Indira Hridayesh Death: Senior Congress leader Dr. Indira Hridayesh is no more, Rahul Gandhi expressed grief
Dehradun, June 13: Leader of Opposition and senior leader of Uttarakhand Congress Dr. Indira Hridayesh passed away today due to heart attack. All the countrymen are saddened by his death. Meanwhile, former Congress President Rahul Gandhi has also expressed his condolences by tweeting. He tweeted and wrote, 'Sad news of the death of Dr. Indira Hridayesh ji, a strong link of Congress party in Uttarakhand. She worked till the end for public service and Congress family. His social and political contributions are an inspiration.
Received the sad news of the demise of Dr Indira Hridayesh ji, a strong link of the Congress party in Uttarakhand. She worked till the end for public service and Congress family. His social and political contributions are an inspiration.

Condolences to their loved ones. pic.twitter.com/b8KmeSCoqw

— Rahul Gandhi (@RahulGandhi) June 13, 2021
(With SocialLY get the latest breaking news, viral trends and all the news related to the world of social media. Here you will get live information about every content that is going viral on Twitter, Instagram and YouTube. The post shown above is unedited content, which can be sent directly to social media. Taken from the accounts of media users. Not modified or edited by Latestly staff. Social media posts do not represent the views and sentiments of Latestly, We assume no responsibility or liability for any content contained in this post do not accept.)
Karnataka: Policemen thrashed mentally challenged man, eight personnel suspended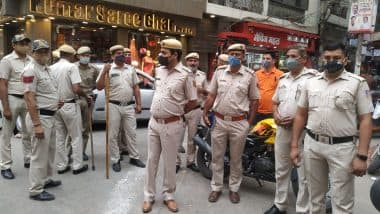 Police (Photo Credits: Twitter)
Madikeri (Karnataka), June 13 : A 50-year-old mentally challenged man was allegedly thrashed to death by policemen in Madikeri city last week for violating lockdown rules. A senior police official said on Sunday that eight policemen have been suspended following the incident. Karnataka Southern Range Inspector General of Police Praveen Madhukar Pawar told reporters here that a case was registered against the policemen on the complaint of Robin D'Souza, the brother of the deceased.
He said that the Deputy Superintendent of Police of Virajpet submitted a report against eight policemen, on the basis of which all of them have been suspended. Pawar said, "Investigation is being done by the sub-divisional officer (SDM). As per the guidelines of the National Human Rights Commission, we are handing over the matter to the CID." Family members told that Roy D'Souza was mentally challenged and was living with his mother while his brother Robin was in Bengaluru. Also read: Mumbai: NCB raids Bakery in Malad, cake-pastry mixed with drugs and supplied to high profile people
They told that Roy ran away from his house late on June 8. The policemen saw him roaming around and questioned him for violating the rules of lockdown and beat him up. The family said that on the morning of June 9, his mother was called to the police station, where Roy was lying unconscious. He was first taken to the local private hospital and then to the district hospital where he died. He told that as soon as he got information about the incident, Robin came to Madikeri and lodged a complaint with the Superintendent of Police, Kshama Mishra.