Copa America 2021: Brazil and Argentina are the top contenders for the title in Copa America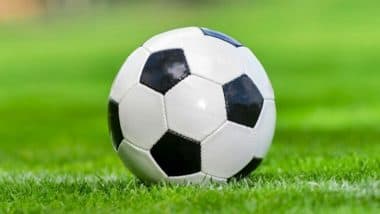 Football (Photo Credits: IANS)
Brazil will face a tough challenge from Argentina, whose team will try to win any major tournament after 1993. However, Argentina will not get a chance to play on their home soil. Argentina and Colombia were the first joint hosts of the Copa America, but later due to various reasons, they were removed from the host and Brazil was given the responsibility of organizing it. This can also give some advantage to Lionel Messi and his team because there will be no pressure on them to play at home. The Copa America starts on Sunday with its first match being played between defending champions Brazil and Venezuela in Brasilia. The final will take place on July 10 at the Maracan Stadium in Rio de Janeiro.
Due to Kovid-19 (COVID-19), spectators are not allowed into the stadium for Copa America matches. Due to this epidemic, this tournament is being organized after a year. The Brazilian players were not happy with the decision to hand over the hosting to their country but are now ready to represent their national team. Brazil currently remains on top of the South American World Cup qualifiers with six wins from six matches. They are six points ahead of Argentina and in the presence of players like Neymar, coach Tite will not only try to save the title but will also want to prepare for the 2022 World Cup in Qatar. Argentina finished third in the Copa America 2019 but the team has improved a lot since Lionel Scaloni took over as the coach. The Argentine team is no longer completely dependent on Messi and has other match-winning players as well. The claim of Colombia also cannot be underestimated, which has continuously improved since the arrival of coach Reynaldo Ruida. Also read: Copa America 2021: Messi, Di Maria and Aguero in Argentina's squad for Copa America
Uruguay is struggling despite the presence of players like Louis Suarez and Edison Cavani. Uruguay has not won the last three matches of World Cup qualifying. Peru, the runner-up of the Copa America 2019, has also not been able to do well in the World Cup qualifying. He hopes his team will regain momentum with last week's 2-1 win over Ecuador. Chile coach Martin Lasarte has decided to field a less experienced team in the Copa America. Two groups of five teams each have been made in the tournament. Group A consists of Argentina, Bolivia, Uruguay, Chile and Paraguay, while Group B consists of Brazil, Colombia, Venezuela, Ecuador and Peru. The top four teams from each group will advance to the knockout rounds. The quarter-finals will be played on July 2 and 3 while the semi-finals will be played on July 5 and 6.
WWE Superstar John Cena shared Virat Kohli's picture on social media, fans gave their reaction in this way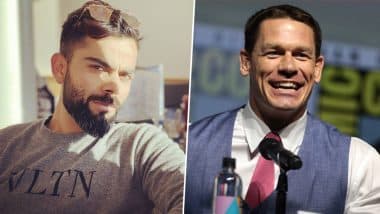 John Cena and Virat Kohli (Photo Credits: FB/ Wikimedia Commons)
New Delhi: Indian cricket team captain Virat Kohli is all set to lead Team India in the final of the World Test Championship (WTC). Under his leadership, he is desperate to win India the biggest award in red-ball cricket. Meanwhile, WWE Superstar John Cena (John Cena) shared the picture of Virat Kohli with his social media account. In this photo, Virat is standing holding the bat. More than 4 lakh people have liked this photo within a few hours. Afghanistan leg-spinner Rashid Khan gave a big reaction to captain Virat Kohli's batting, said these things
Let us tell you why John Cena shared this picture, it could not be known. Because he has not written any caption with the picture as usual. It is believed that this photo was taken during the 2019 match. Cena often does not write captions with the picture and leaves the responsibility of understanding it to the followers.
John Cena may not have given the reason for sharing Virat Kohli's picture, but the fans are very happy and are starting to speculate. Most of the comments were made regarding that Cena would support Team India in the final of the World Test Championship against New Zealand from June 18. Fans believe that John Cena has also shared this picture to support Virat Kohli.
Having followed the 16-time world champion John Cena for more than a decade, he will be well aware of the famous catchphrase "You can't see me" from the Doctor of Thuganomics.
John Cena shared a picture of Virat Kohli on social media even before the semi-final between India and New Zealand in the 2019 ODI World Cup. Team India had lost the semi-final match. But in the final of the World Test Championship, Team India has a good chance to avenge the defeat that it got two years ago.
Confident of getting double digit medals in Olympics despite challenges of Corona era: IOA President Batra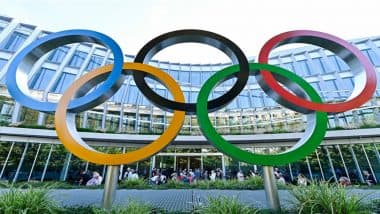 Commonwealth Games/Commonwealth Games (Photo: IANS)
New Delhi, June 13 : Despite the players' preparations being disrupted due to the Corona pandemic, the cancellation of many qualifying tournaments and not getting more opportunities to play at the international level, Indian Olympic Association President Narinder Batra is hopeful that the Tokyo Olympics. India 's medal tally will be in double digits and he also said that no Olympic going player has any mental health problem .
In this era of Corona, in almost every game from cricket to football, the issue of mental health of the players living in the bio bubble has been a topic of constant discussion. In a conversation with Batra, Batra said, "The circumstances arising out of the Corona period are the same for all over the world but the players have faced it firmly. Also read: COVID-19: 10 new cases of Kovid-19 in Andaman and Nicobar, one death
They are practicing with positivity and now the competition is waiting. Till now we have not heard anything that any of our sportspersons going to play Olympics have to face any mental health problems.
PSL 2021: Faf du Plessis suffers serious injury while stopping boundary, has to be taken to hospital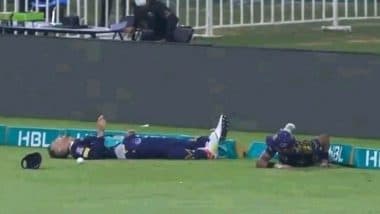 Faf du Plessis (Photo Credits: Twitter)
New Delhi: Former South Africa captain Faf du Plessis got injured while fielding on Saturday and had to be taken to the hospital. In the Pakistan Super League (PSL) match between Quetta Gladiators and Peshawar Zalmi, Faf du Plessis started trying to stop the boundary. Then his head collided with the knee of his fellow player Mohammad Hasnain. PSL 2021: This Pakistani bowler hit the ball on the head of Andre Russell, had to go to the hospital
Let us tell you that Faf got injured while fielding on the fourth ball of the seventh over of the match. David Miller plays a shot in the long on direction. Faf and Hasnain ran to catch the ball but Faf fell while catching the ball near the boundary. Hasnain's foot hit his head and he then lay down on the ground. Faf was taken to the hospital soon after the collision.
What's happening in sports, First #Eriksen now Faf Du Plessis has been taken to hospital #FafduPlessis

Wishing him a speed recovery 🙏 pic.twitter.com/uvMOfdUnr9

— Manish Satija (@mani_satija) June 12, 2021
Earlier on Friday, West Indies all-rounder Andre Russell also got hit in the head during the match, after which he was admitted to the hospital. Russell was hit in the head while batting in a match against Islamabad United. After this he was taken off the field.
In this match Peshawar team scored 197 runs losing 5 wickets in 20 overs. David Miller scored a total of 73 runs in 46 balls with the help of 6 fours and 4 sixes. Wicket-keeper batsman Kamran Akmal played a brilliant innings of 59 runs. Rovman Powell returned unbeaten on 43. To chase the target, Sam from the Quetta team came out to open. He contributed 35 runs in 31 balls with the help of 5 fours. In response, Quetta Gladiators could only make 136 for the loss of 9 wickets.