Center has expanded the Central Civil Services (Pension) 2020 rules, will be applicable to these government employees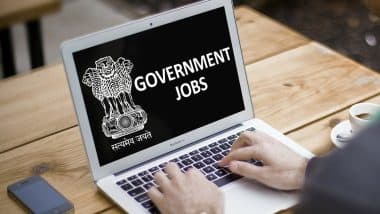 Government Jobs (File Photo)
Central Civil Services (Pension) 2020 Rules: The Central Government has amended its rules to prohibit the publication of sensitive information to retired officers who have worked in intelligence and security related institutions and have included new bye-laws. These also include the condition that the officers may not share any material related to the work area of ​​the Institute or any employee. The Central Civil Services (Pension) Amendment Rules, 2021 were notified late on Tuesday, May 31. These rules state that the retired employees will have to take prior permission from the head of the institution for publishing such material. Under the new rules, a total of 18 investigation, defense and intelligence agencies including CBI, CISF, ITBP, SPG are included. 7th Pay Commission: Another big relief for central employees, now the government has taken this decision
According to the new rule issued by the government, restrictions have been imposed on retired officers of security and intelligence agencies. The amendment states, 'All employees shall have to give an undertaking to the head of the institution that they will not publish such information and failing which their pension (in full or part) will be withheld or withdrawn. '
Highlights of the amendment
1) These rules may be called the Central Civil Services (Pension) Amendment Rules, 2020.
2) These rules have become effective from the date of issue of official gazette i.e. 31st May.
3) Any employee working in any intelligence or security related institutions falling under the second schedule of the Right to Information Act (RTI) will have to take approval from that organization before publishing any article or book in certain matters after retirement, from where he retired.
4) Under this, approval has to be taken for publication about the domain of the institution such as information about or reference to a person and their profession and expertise gained while working in the institute.
5) Apart from this, any sensitive information which affects the unity and integrity of the country or affects the foreign relations or affects the strategic, scientific or economic interests of the country, then prior approval has to be obtained for publishing such article.
6) The head of the institution will have the right to decide whether any article or book is sensitive or not.
7) A Form 26 has to be given to the former employee in the form of undertaking. Under this, if he violates the conditions of undertaking after retirement, then his pension can be stopped.
These institutes are included in the list
The list includes Intelligence Bureau, Research and Analysis Wing, Directorate of Revenue Intelligence, Central Economic Intelligence Bureau, Enforcement Directorate, Narcotics Control Bureau, Aviation Research Centre, Special Frontier Force, Border Security Force, Central Reserve Police Force, Indo-Tibetan Border Police, Central Industrial Security Force, National Security Guard, Assam Rifles, Sashastra Seema Bal, Special Branch (CID), Crime Branch-CID-CB, Special Branch, Lakshadweep Police, Special Protection Group, Defense Research & Development Organization, Border Road Development Board and The Financial Intelligence Unit comes in.
All centrally protected monuments/sites and museums to be opened from June 16: Archaeological Survey of India
Protected monuments/sites and museums to be opened:
All Centrally protected monuments/sites and museums under ASI will be opened from 16th June: Archaeological Survey of India pic.twitter.com/Kig3w0AEEt

— ANI (@ANI) June 14, 2021
(With SocialLY get the latest breaking news, viral trends and all the news related to the world of social media. Here you will get live information about every content that is going viral on Twitter, Instagram and YouTube. The post shown above is unedited content, which can be sent directly to social media. Taken from the accounts of media users. Not modified or edited by Latestly staff. Social media posts do not represent the views and sentiments of Latestly, We assume no responsibility or liability for any content contained in this post do not accept.)
Inflation: Wholesale inflation hits record high of 12.94 per cent due to costlier fuel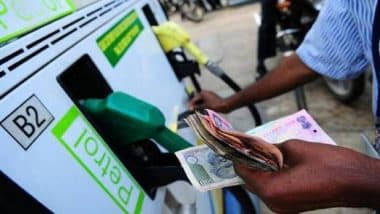 Representational Image | (Photo Credits: PTI)
New Delhi: Inflation based on wholesale prices rose to a record high of 12.94 per cent in May due to rise in prices of crude oil and manufactured goods. WPI inflation rose sharply in May 2021 due to the lower base effect. WPI inflation in May 2020 was negative 3.37 per cent. Petrol Diesel Price: Petrol reached beyond 100 in these states, know today's price in your cities
This is the fifth consecutive month that inflation based on the Wholesale Price Index (WPI) has increased. In April 2021, WPI inflation was in double digits to 10.49 percent. "The annual rate of inflation based on monthly WPI has increased to 12.94 per cent in May 2021 (as compared to May, 2020) from negative 3.37 per cent in May 2020," the commerce ministry said in a statement.
According to the statement, "The higher rate of inflation in May 2021 is mainly due to lower base effect and increase in the prices of petroleum products and manufactured products like petrol, diesel, naphtha, furnace oil etc. as compared to the corresponding month of last year. "
Inflation in fuel and power rose to 37.61 per cent during the period under review, from 20.94 per cent in April. Inflation in manufactured products stood at 10.83 per cent in May as against 9.01 per cent in the previous month.
Food inflation moderated marginally to 4.31 per cent in May. However, onions became expensive during this period. RBI in its monetary policy earlier this month kept interest rates at a record low and said it was committed to maintain a lenient policy to boost growth.
(This is an unedited and auto-generated story from a syndicated news feed, likely not modified or edited by the latest staff)
Revolt in LJP, Chirag Paswan's uncle Pashupati Kumar Paras was unanimously elected leader of the party parliamentary party in Lok Sabha
Pashupati Kumar Paras was unanimously elected as the leader of Lok Janshakti Party (LJP) parliamentary party in Lok Sabha.
Pashupati Kumar Paras unanimously elected as the Lok Janshakti Party (LJP) Parliamentary party leader in Lok Sabha; a meeting was held on 13th June.

(File photo) pic.twitter.com/2qNBAqiZhq

— ANI (@ANI) June 14, 2021
(With SocialLY get the latest breaking news, viral trends and all the news related to the world of social media. Here you will get live information about every content that is going viral on Twitter, Instagram and YouTube. The post shown above is unedited content, which can be sent directly to social media. Taken from the accounts of media users. Not modified or edited by Latestly staff. Social media posts do not represent the views and sentiments of Latestly, We assume no responsibility or liability for any content contained in this post do not accept.)