Bold photoshoot of wink girl Priya Prakash Varrier went viral, hot avatar stunned fans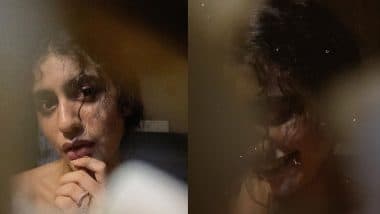 Priya Prakash Varrier (Image Credit: Instagram)
Priya Prakash Varrier, who became an overnight social media sensation with her amazing gesture, is still very popular among people. His charming style blows the senses of the fans. So there dear also gives a lot of opportunity to the fans to talk. She keeps sharing her glamorous pictures every day. In such a situation, now Priya has created a sensation by sharing her topless photo. These pictures of Priya are becoming fiercely viral on social media. In which she is seen giving different expressions. Which of course the fans are liking.
Priya has made 2 posts on her social media. In which he has posted many pictures. Seeing such a look of Priya is no less than a treat for the fans. This is the reason why many people are seen commenting on it. You also see the charming look of the actress on which everyone is showering love.
By the way, let us tell you that Priya Prakash Varrier was in discussion about her upcoming Telugu film 'Crack'. She is going to debut in Telugu film industry with this film. She will be seen opposite actor Nitin in this movie.
Ankita Lokhande performed Havan on the first death anniversary of Sushant Singh Rajput
On this day last year, such a news came which surprised everyone. Actually, on June 14 last year, Sushant Singh Rajput was found dead in his Bandra flat under suspicious circumstances. During that time, people's senses were blown away after hearing the news. Till date people have not forgotten Sushant and now today is Sushant's first anniversary. The actor's name is trending on social media since last evening. At the same time, Ankita Lokhande has worshiped in the memory of the actor at her house.
Recently, Ankita Lokhande has shared a video last night which you can see. The video shows Ankita and her entire family worshiping Sushant Singh Rajput. Popular TV actress Ankita Lokhande performed 'havan' at home ahead of Sushant Singh Rajput's first death anniversary and wished his soul peace. You must be aware that Sushant Singh Rajput and Ankita Lokhande first met on the sets of 'Pavitra Rishta'. It was only after this show that both became stars overnight.
On the sets of the show, the two became friends and fell in love. After that gradually both of them became favorite. Both had reached the wedding but suddenly the sacred relationship broke down forever. Ankita Lokhande is a victim of people's anger every day because people say that she has forgotten Sushant.
.
Rajinikanth will go to America for medical check-up
Rajinikanth was on his way to America for a medical checkup. Following this, he had requested the central government to allow them due to the ongoing pandemic. As per the latest reports, the Center has given her the green signal for the same and the megastar will now travel in a special flight to the US.
The special flight has a capacity of 14 people, and the actor will also take some of his family members along with him. Significantly, Rajinikanth's son-in-law and actor Dhanush is already in the USA with his wife and sons. The actor is shooting for his Hollywood film and he will also look after his father-in-law during his medical checkup. So, it is going to be a mini-get together for Rajinikanth and his family in America.
On the work front, Rajinikanth plays the village president in 'Annathe', and the shooting of the film was completed a few months before the lockdown. But the actor is yet to dub his scenes in the film, and will be back on duty once he returns to India.
.
Trend on Twitter, this actress became the first choice of people for the character of Sita
Mumbai. Friends, let us tell you that director Supernatural Desai is soon going to make the film Sita, in which the name of Kareena Kapoor Khan is coming to the fore. Kareena Kapoor Khan has been trolled for the role of Sita. According to reports, for playing the role of Sita in a film based on Ramayana, Rs 12 crore was allegedly demanded. After such news surfaced, he was trolled on Twitter. People say that they do not want to see Kareena Kapoor in the role of Sita.
Friends, let us tell you that the trolls also opposed the making of the film and said that if Kareena plays Sita in this film, then she will boycott it. Although friends, some users have also suggested options for other actresses for the role of Sita. Friends, users say that Kangana Ranaut, Yami Gautam, Anushka Shetty and Keerthy Suresh will be the best for the role of Sita.
Friends, people say that Kareena Kapoor Khan has demanded Rs 12 crore for the role of Sita Maa. Friends, let us tell you that Deepika Padukone was also approached for this role before Kareena Kapoor but the matter did not work out. Although friends Kareena has liked its script, but talks are going on between the makers and the actress regarding the fees.
.