Bihar: Troubled by going to wife's maternal house, husband measured 495 km by scooty, still could not reach in-laws due to police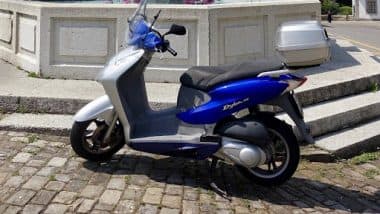 Symbolic photo (Photo Credits Pixabay)
Patna: You must have heard many stories of love between husband and wife and you must have seen the immense love between husband and wife. One such case was seen in Purnia when the husband, upset due to the wife's maternal home, measured the distance of about 500 km by scooty. During this he also had to spend the night in the police station. This case is from Purnia district of Bihar. According to the police, Sandeep Kumar of Kushinagar district of Uttar Pradesh was married two years ago. After the wife's maternal home, he was so angry that he reached Purnia, 495 km away by driving a scooty.
A police officer said on Monday that he had to take shelter at the Khazanchi Haat (Kehat) assistant police station on Saturday night due to the disturbance of anti-social elements. The station in-charge of Kehat, Sanjay Kumar Singh told that Sandeep Kumar loves his wife very much, suddenly his wife went to her maternal home. Even after many efforts, when she did not come, she herself decided to go to her maternal home to meet her. Also read: Madhya Pradesh: Husband ready to divorce to reunite wife with her lover, case is going on in family court
The station in-charge told that when the police demanded his identity card, he could not show it. The police contacted the Pateria Fazil Nagar police station located in Kushinagar district of Uttar Pradesh regarding the identity. Sandeep's father requested Purnia police to keep him in the police station.
Police station in-charge Singh told that Sandeep Kumar's father Brij Bihari Singh called from Kushinagar and told that Sandeep was upset. His father Brij Bihari Singh told that Sandeep started getting very upset after his wife's maternal home.
He said that an FIR was also lodged regarding his disappearance in this matter. The relatives made Sandeep talk to his wife from Purnia itself and then the wife agreed to return. The station in-charge told that Sandeep had no relation with Purnia, he had reached here just wandering.
Arvind Kejriwal announces, AAP will fight on all seats in the 2022 Gujarat Assembly elections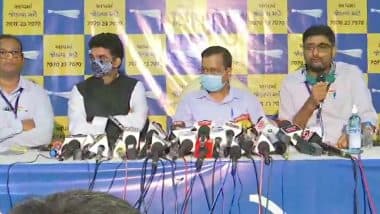 AAP leader Arvind Kejriwal on Gujarat tour (Photo Credits: ANI)
Ahmedabad: Aam Aadmi Party (AAP) national convener and Delhi Chief Minister Arvind Kejriwal, who went on a Gujarat tour, has made a big announcement. Kejriwal said that in the Gujarat Assembly elections to be held in 2022, AAP will contest on all the seats. During this he inaugurated the state office of Aam Aadmi Party in Ahmedabad. Senior journalist Isudanbhai Gadhvi joined AAP in his presence. Arvind Kejriwal in Gujarat: Delhi CM Arvind Kejriwal arrives in Ahmedabad, will inaugurate AAP state office
AAP leader Arvind Kejriwal said, "The condition of Gujarat today is the work of BJP and Congress governments. For the last 27 years, there is a single party government in Gujarat. But the last 27 years are the story of friendship between these two parties. They say Congress is in BJP's pocket."
Aam Aadmi Party (AAP) to contest on all seats in the 2022 Gujarat Legislative Assembly Polls: AAP leader and Delhi CM Arvind Kejriwal pic.twitter.com/3GXvtPVfMt

— ANI (@ANI) June 14, 2021
A day before coming to Gujarat, Arvind Kejriwal had said that now Gujarat will change. Delhi Chief Minister Arvind Kejriwal reached Gujarat on a one-day visit on Monday. This will be the second time that Kejriwal has gone to Gujarat. He had earlier gone to Surat in February, where his party, which was fielded for the first time in the local body elections, emerged as the main opposition party. This visit of Kejriwal is also important because his party is already eyeing to contest the state assembly elections to be held in December 2022 and preparations are going on in full swing for this.
I am ready to be CM face if high command decides: Nana Patole, Maharashtra Congress chief
Maharashtra Assembly Elections:
Congress will contest the Maharashtra Assembly Elections alone. I am ready to be the CM face if the high command decides: Maharashtra Congress chief Nana Patole

(File photo) pic.twitter.com/cKqE5BD5dZ

— ANI (@ANI) June 14, 2021
(With SocialLY get the latest breaking news, viral trends and all the news related to the world of social media. Here you will get live information about every content that is going viral on Twitter, Instagram and YouTube. The post shown above is unedited content, which can be sent directly to social media. Taken from the accounts of media users. Not modified or edited by Latestly staff. Social media posts do not represent the views and sentiments of Latestly, We assume no responsibility or liability for any content contained in this post do not accept.)
Bihar: Lok Janshakti Party broke up, after the death of Ram Vilas Paswan, son Chirag got the command, uncle Pashupati Kumar has been accused of splitting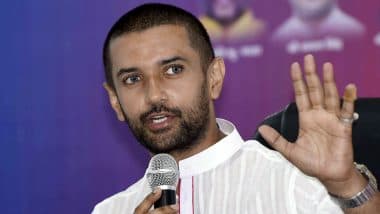 Chirag Paswan (Photo Credits: ANI)
Patna: Within a year of the death of Bihar's veteran leader and former Union Minister Ram Vilas Paswan, his party Lok Janshakti Party (LJP) has split. At present, the LJP is being commanded by Ram Vilas's son Chirag Paswan. Chirag's uncle Pashupati Kumar Paras is being held responsible for the rebellion in the Lok Janshakti Party. Meanwhile, LJP national president Chirag Paswan has reached the residence of party MP and his uncle Pashupati Kumar Paras to meet him. On the pretext of Corona, Bihar's BJP President Dr Sanjay Jaiswal said – go out of the houses as much as Rahul Gandhi goes to the temple
Pashupati Nath Paras, Lok Sabha MP from Hajipur in Bihar said, "I am feeling lonely. In whose hands the reins of the party went. 99% of the party workers, MPs, MLAs and supporters all wanted us to be a part of the NDA alliance in 2014 and remain a part of this time's assembly elections as well."
Lok Janshakti Party leader said, "There are 6 MPs in our party. Five MPs wished that the party was ending its existence, so the party should be saved. I have not saved the party. There is no complaint with Chirag Paswan. There is no objection that he should remain in the party."
He said that Lok Janshakti Party was disintegrating, some anti-social elements broke into our party and broke the alliance ignoring the sentiments of 99 percent workers.
5 MPs have submitted letter to the Speaker, we will go and meet him as and when he orders: LJP MP Pashupati Kumar Paras

— ANI (@ANI) June 14, 2021
Five of the LJP's six Lok Sabha members are believed to have joined hands to remove Chirag Paswan as the party's leader in the lower house of Parliament and elect his uncle Pashupati Kumar Paras to the post. This group of MPs has conveyed this decision to the Speaker of the Lok Sabha. However, no official statement has been issued by Chirag Paswan in this regard.
No. This is 100% wrong. LJP is our party, the organization is strong in Bihar. I was with NDA and I will continue to be a part of the alliance: LJP MP Pashupati Kumar Paras when asked if he met JD(U) leaders pic.twitter.com/Yn6GY4i5Bl

— ANI (@ANI) June 14, 2021
According to the information received, the dissatisfied MPs include Prince Raj, Chandan Singh, Veena Devi and Mehboob Ali Kaiser, who are unhappy with the way Chirag is working. Chirag, who took charge after the death of father Ram Vilas Paswan in 2020, is now seen falling alone in the party.
It is also being said that the group of LJP MPs may support JDU in future. It is noteworthy that in the last year's assembly elections, Chirag had fielded his party in the electoral fray by calling himself 'Hanuman' of Prime Minister Narendra Modi. In such a situation, BJP leaders even Prime Minister Narendra Modi had said in his Bihar tour that only BJP, JDU, Vikassheel Insaan Party and Hindustani Awam Morcha are included in the NDA. Despite this, it is believed that the LJP was successful in creating confusion among the voters. This is the reason that even though LJP may have won one seat in the election, it had damaged JDU in many seats.