Bihar: Big decision of Nitish government, 33% seats will be reserved for girls in all medical and engineering colleges of the state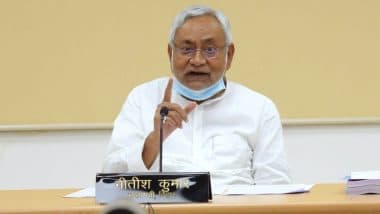 Nitish Kumar (Photo Credits: Facebook)
Chief Minister Nitish Kumar has made a big announcement for the daughters of Bihar. According to the information received, 33 percent seats will be reserved for girls in all medical and engineering colleges of Bihar. In fact, a presentation of the proposed bill regarding the establishment of engineering university and medical university was given in front of CM Nitish Kumar on Wednesday through video conferencing. During this, Nitish Kumar said that in the enrollment in engineering and medical colleges of the state, at least one-third seats should be reserved for girl students. This will increase the number of girl students. This would be a unique thing. Also read- BJP MLC Tunna ji Pandey said – Nitish Kumar remains CM by misusing the power system, JDU's Upendra Kushwaha made a tough question to Sanjay Jaiswal.
Chief Minister Nitish Kumar said that with this the girl students will be more motivated towards higher and technical education. He said that engineering colleges are being opened in all the districts of the state, many medical colleges have also been opened. Our aim is that the children and girls of Bihar do not have to go out to study engineering and medicine.
Tweet related to the announcement of Nitish government-
Chief Minister @NitishKumar Presentation of the proposed bill regarding setting up of Engineering University and Medical University through video conferencing.https://t.co/EqgcmqqPFx

— IPRD Bihar (@IPRD_Bihar) June 2, 2021
CM Nitish Kumar said that engineering colleges and medical colleges will be managed better with the establishment of engineering universities and medical universities. Along with this, the teaching work in colleges can also be controlled better.
Jail journalist Siddique Kappan's mother Khadijakutty dies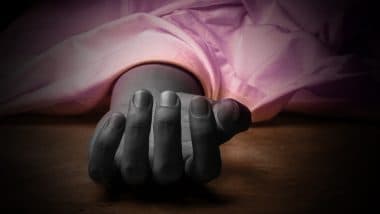 Symbolic Image (Photo Credits: File Photo)
Malappuram, June 18: Jailed Malayali journalist Siddiq Kappan's ailing mother Khadijakutty (91) died at her home near Vengra on Friday. Kappan was arrested on October 5 last year while on his way to Hathras in Uttar Pradesh. A Dalit girl was allegedly gang-raped to death in Hathras.
Kappan visited his ailing mother in February after the Supreme Court granted him five-day bail.
Police say they have arrested four people allegedly linked to PFI (Papul Front of India) in Mathura and they have been identified as Siddiq, a resident of Mallapuram, Atiq ur Rehman of Muzaffarnagar, Masood Ahmed of Bahraich and Alam, a resident of Rampur. happened.
Uttar Pradesh: 8-year-old boy locked in car while playing game on mobile in Mathura, dies of suffocation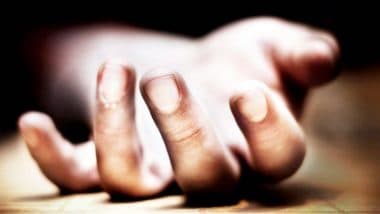 Symbolic Image (Photo Credits: File Image)
Mathura, June 18: In a village in Mathura district of Uttar Pradesh, an eight-year-old boy sat in a car while playing a game on mobile, and due to the car being locked, he could not get out and died of suffocation. The police informed about this. According to the police, Krishna, the son of Rinku Aggarwal, a resident of Barari village of Thana Refinery, took his mobile and went to play.
He told that when he did not return despite being too late, his search started. He told that all the members also searched for him in the nearby houses, but he could not be found. The officer said that after searching for two hours, he found someone lying in the car parked outside. When opened, he was unconscious.
Also read- Country News | 53 more deaths due to corona infection in Uttar Pradesh, 291 new patients found
He was immediately taken to the hospital where doctors declared him brought dead, they said. In other incidents, two bike-borne miscreants on Thursday robbed two couples at two different places in Baldev police station area on the use of weapons, police said.
(This is an unedited and auto-generated story from a syndicated news feed, likely not modified or edited by the latest staff)
United Kisan Morcha said- Center is defaming the farmers' movement, the demonstration will not end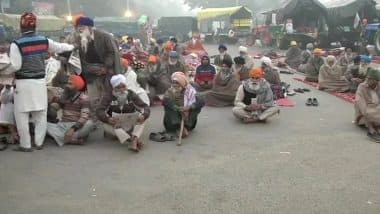 Symbolic picture (Photo Credits: ANI)
New Delhi, June 18: The United Kisan Morcha (SKM) on Friday alleged that the central government was "defaming" the farmers agitating against the agriculture laws and that would not happen if the government was hoping that the agitation would end. 40 farmer organizations are protesting under the leadership of United Kisan Morcha. The SKM claimed that several state governments stood firmly with the movement and more farmers had reached the protest site on the borders of Delhi to join the movement. Thousands of farmers, mainly from Punjab, Haryana and western Uttar Pradesh, have been protesting at the borders of Delhi for more than six months, demanding a repeal of three agricultural laws and legislation to guarantee the Minimum Support Price (MSP). .
The United Kisan Morcha said, "No opportunity is being left to defame the protesters. However, their policy will fail this time too." The statement said, "What the farmers are demanding is that their fundamental right to livelihood should be protected. In a democracy, it is expected that the government will accept their legitimate demands. Instead, the BJP-led government is unnecessarily prolonging the movement, maligning it and hoping that it will end like this. that's not going to happen."
Also read- Farmers Protest: Deputy Chief Minister Dushyant Chautala's big allegation, said- Farmers' movement is not about the demands of the farmers, but to oppose the government
The United Kisan Morcha claimed that several BJP leaders are asking the central government to address the farmers' issue. "The Chief Minister of Tamil Nadu (MK Stalin) recently raised the issue of repeal of all three agricultural laws in a memorandum to Prime Minister Narendra Modi. Maharashtra is also in the process of amending its law to neutralize the ill effects of central laws on farmers.
The Chief Minister of West Bengal (Mamata Banerjee) has also been continuously saying that the demands of the agitating farmers should be met. In some other states, governments of other parties are also standing with the farmers' agitation." The United Kisan Morcha claimed that hundreds of farmers from Jaspur in Uttarakhand reached the Ghazipur border on Thursday and a large convoy led by Bhakiyu (Tikait) for five days. After walking till Ghazipur reached the border on Friday.