Big B's lookalike Shashikant is a professor by profession, helping people during the Corona period
Friends, let us tell you that the stardom of Bollywood stars is such that everyone wants to look like them. Friends, it is said that there are 7 people of the same face in the whole world. But till date we have not received even a single copy of us. Yes, the lookalike of Bollywood celebs have definitely been seen. Those who look exactly like them. The lookalike of some stars also worked in the film industry and earned a lot of name. Friends, today we are talking about the lookalike of Bollywood megastar Amitabh Bachchan in this post.
Friends, the name of the lookalike of Amitabh Bachchan is Shashikant Pedwal. Friends, for your information, let us tell you that Shashikant, who is always seen in the getup like Amitabh, can also make a good copy of his voice. Friends Shashikant is on a mission these days. This mission is to increase the morale of the patients suffering from corona virus by talking to them.
Friends, let us tell you that Shashikant talks to patients through VIDEO calling and gives a message to always keep positive thinking. Friends Shashikant has talked to 350 Kovid patients so far. Shashikant is a professor by profession and teaches at Government Technical Institute ITI.
Friends, Shashikant tries to copy the gesture of his favorite artist Amitabh Bachchan and always tries to appear in his costume. Friends, he also wears glasses of his style. According to Shashikant, he got a chance to meet Amitabh Bachchan for the first time in 2011, so far he has met the superhero twice.
.
Kangana reached Bombay High Court due to international travel, know the whole matter
Bollywood actress Kangana Ranaut remains in the discussion about her statements more than her work. A big news has come out about Kangana as the actress has reached the Bombay High Court demanding renewal of her passport. According to the information received, Kangana, while filing an application in the court, said, "The Passport Authority is objecting to the FIR lodged against her by the Bandra Police regarding the heinous tweet and sedition."
His sister Rangoli Chandel is also an accused in the case. Let us tell you that Kangana has written in her application, "Since she is an actress, she has to travel internationally from across the country for professional meetings." Kangana has also informed that "She has to shoot a film in which she has a lead role. For which he has to travel to Budapest from June 15 to August, 2021. His passport will expire in September 2021. Due to which they have to renew their passport. But the sedition case registered against him is adding to his troubles."
On the other hand, no response has been received from the High Court in this matter so far. It is not yet decided whether Kangana's passport should be renewed or not. Bollywood tigress Kangana Ranaut is soon going to be seen in films like Dhakad and Tejas and she is busy shooting for these films.
.
Pavitra Rishta 2.0: Ankita Lokhande to return as Archana, this TV actor to play Sushant Singh Rajput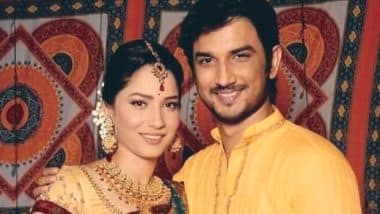 Sushant Singh Rajput and Ankita Lokhande (Photo Credits: Instagram)
The makers are once again preparing to present the hit TV show 'Pavitra Rishta' by Sushant Singh Rajput and Ankita Lokhande to the audience in a new way. While Ankita will be seen again in this show as Archana, the makers have cast a new actor in place of Sushant, who plays Manav in the show. With the title of 'Pavitra Rishta 2.0', the show will be seen again among the audience.
According to the latest report published in Pinkvilla, Ekta Kapoor has cast Shaheer Sheikh for the role of Manav in this show. After 7 years, Ankita will once again be seen playing the role of Archana. The other cast of the show will also be finalized soon.
Let us inform that Ankita and Sushant's show 'Pavitra Rishta' was one of the most hit shows of TV with about 1500 episodes. From this show, these artists got their recognition from house to house and the audience liked the story of Archana and Manav very much.
Recently, celebrating the completion of 12 years of this show, Ankita came live on her social media and celebrated it with her fans. Recently, on the first anniversary of Sushant Singh Rajput, the actress also gave a special tribute on social media remembering him.
Hot dance video of Dayaben aka Disha Vakani of Taarak Mehta Ka Ooltah Chashmah show went viral, fans lost their senses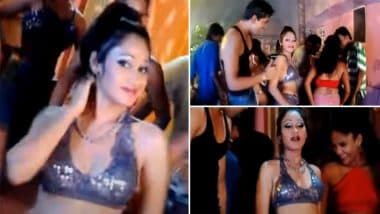 Disha Vakani Dance Video (Photo Credits: Youtube)
Her fans are missing actress Disha Vakani, who made a place in the hearts of people by playing the role of Dayaben in the TV show 'Taarak Mehta Ka Ooltah Chashmah'. Disha entertained everyone with her comic presence and amazing expressions. A throwback video of him has become very much discussed among the fans waiting for his return to the show.
In the video, Dayaben aka Disha is seen dancing on Wakani's song 'Bhingri Ga Bhingri'. In this video, Disha is seen dancing with her co-star Bunty in a very hot style. This video of the actress is becoming quite viral on the internet and people are discussing it.
Disha is looking very slim in the video and even people are not able to believe seeing her dance. Watch this viral video of the actress:
Talking about the return of Dayaben in the show 'Taarak Mehta…', its producer Asit Kumar Modi told E-Times in April, "I can understand that the audience has been waiting for Dayaben for a long time and I want to see her. I understand the sentiments and I want her to return to the show soon."