Bhabiji Ghar Par Hain's Saumya Tandon accused of getting vaccine through fake ID, actress gave this clarification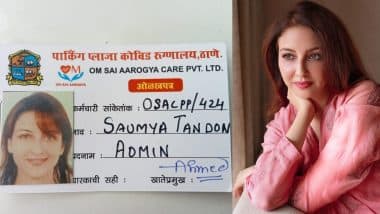 Saumya Tandon (Image Credit: Instagram/Twitter)
Actress Saumya Tandon of the TV show Bhabhi Ji Ghar Par Hain has been accused of getting the corona vaccine through Fake ID. After which an ID of Saumya Tandon is also going viral on social media, on the basis of which it is being claimed that Saumya has got the corona vaccine through this fake ID. A passport size photo of Saumya Tandon is visible in this ID. However, the hospital time is not visible on the ID. As soon as this discussion intensified on social media, actress Saumya Tandon has broken her silence on this matter.
Soumya has called this ID as fake and has told the matter of getting the vaccine using it wrong. While tweeting, the actress wrote in response to a user, it is fake. Soumya writes that many media reports are claiming that I have taken coronavirus vaccine through this ID, this is completely wrong. I have definitely got the vaccine. But from the center near my house. That too completely following the rules. Please do not trust such unverified reports and claims.
Contrary to some media reports claiming that I have taken my first Covid vaccine dose from A facility in Thane by dubious means is untrue. I have taken my first jab but from a center near my house following proper procedures. Please don't believe in unverified reports and claims.

— Saumya Tandon (@saumyatandon) June 4, 2021
Not only this, while talking to the Indian Express, Soumya said that this ID is completely fake and anyone can make such an ID, there is neither any hospital stamp nor any sign on this ID. It is very easy to make such passport size photos from my pictures on Google.
Pregnant Nusrat Jahan jumps in water, bold photoshoot of swimming pool goes viral
Mumbai. Trinamool Congress MP and Bengali actress Nusrat Jahan has been in the news for the past several days. Nusrat Jahan is very active on social media, keeps sharing her beautiful pictures and videos, which fans like very much.
Friends, recently Nusrat Jahan has shared VIDEO. In this, she is seen playing with water in the swimming pool. Friends, this shoot of Nusrat is being liked by the fans, while some people are also criticizing her. Let us tell you that for the past several days, she is in the headlines due to the news of pregnancy and rift with husband Nikhil Jain.
Friends, let us tell you that Nusrat Jahan's sensational statement has come after the news of rift with pregnancy and Nikhil Jain. In this he had said that his marriage to Nikhil is illegal. Friends, only after this a picture of her came out in which her baby bump was visible. According to reports, Nikhil Jain says that he is not the father of Nusrat's child.
Friends, for your information, let us tell you that Nusrat Jahan claims that she married businessman Nikhil Jain in Turkey in 2019. This marriage is not valid according to Indian laws. Friends, they say that they had married according to the Turkish Marriage Regulation, so it is illegal in India.
.
The house of this actress is no less than a shopping mall, if not sure then see for yourself
You must have known the beautiful television actress Digangana Suryavanshi that she has always been the subject of discussion about her character in television.
Digangana Suryavanshi likes to be active on social media and keeps sharing her stylish pictures every day, you can see in these pictures that she is looking very beautiful and hot.
You can see her shoes collection purse collection in the background, her house is no less than a shopping mall, let us tell you that Digangana Suryavanshi's financial condition is already good, she belongs to Rajput family.
Digangana Suryavanshi has now started working in web series as well and the people of her upcoming project eagerly wait.
.
Bold photoshoot of this actress went viral, people said second Sunny Leone
Although Sunny Leone is one of the hottest and bold actresses of Bollywood because her style is very much liked by the people and she wins the hearts of people with her bold character in films, but actress beauty who is famous from Raktanchal web series Sharma is also no less than her, she is also very hot and always remains in the discussion about her photoshoot.
Soundarya Sharma has recently posted some pictures in which she looks quite bold and after seeing these pictures people call her the second Sunny Leone.
Let us tell you that this actress has also worked in the second part of this web series, Sundaria Sharma has also worked in some Bollywood films and now she is not getting work in Bollywood but still she is very active in the web series. .
.