Bareilly: Two accused of gang rape of Dalit girl arrested after encounter, 4 still absconding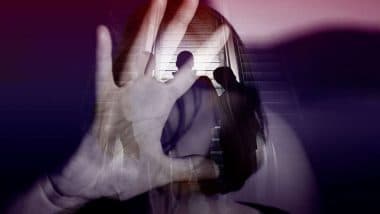 Symbolic photo (Photo Credits: Pixabay.com)
Lucknow: In Bareilly, Uttar Pradesh, two accused who gang-raped a girl student were arrested by the police during an encounter. While four other accused are still absconding. The accused are accused of allegedly assaulting and gang-raping an 18-year-old Dalit girl. Let us tell you that the gang-rape of the Dalit girl student was carried out by the accused when she was going to roam on Scooty with two of her friends. The accused had carried out the gang rape incident at knife point. Uttar Pradesh: Accused of kidnapping and rape in Ballia arrested four years after the incident.
According to the information received, on May 31, a student of class XII went to ride on her scooty with two school friends. During this, he was surrounded by six people in Bhagwanpur Dhimri village. The accused dragged her on a two-wheeler and gang-raped her.
The victim girl, who was shocked by the whole incident, told the whole thing to her parents on June 5. After this, he reached the station with the police and an FIR was registered. After the matter came to the notice, the police started looking for the accused.
During search in sugarcane fields near the village on Saturday night, police saw two youths. On being questioned, one of them opened fire and they started running. The police chased them and shot one of them in the leg. Soon, he surrendered.
After investigation, the police told that all the accused are between 20 and 25 years old and work as laborers. In the whole matter, SSP Rohit Singh Sajwan of Bareilly said that, we have arrested 2 accused. One of them was leading this gang. During the encounter, he sustained a bullet injury in his right leg and was admitted to the hospital.
Another person was at the scene. He took pictures of the girl. "We have gathered enough evidence," he said. The remaining 4 accused will be caught soon.
Preparations to send man-eating leopards caught in Uttarakhand to rescue centers in other states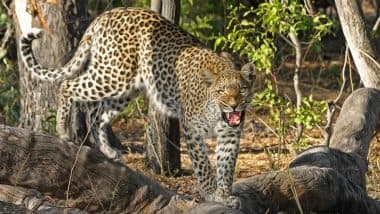 Leopard/symbolic photo (Photo Credits: Pixabay)
Dehradun, June 13: After completing the capacity of rescue centers set up in Nainital and Haridwar districts for man-eating leopards caught alive, the Uttarakhand Forest Department is now preparing to send them to other states. Chief Wildlife Warden of the state JS Suhag said that in this regard, in-principle approval has been received from the Central Zoo Authority and after getting formal permission from the state government, the process of sending the man-eating leopards caught alive to the rescue centers of other states will start. He said that this step is being taken as the capacity of two rescue centers in Uttarakhand is full.
Suhag said that eight leopards have been kept at Chidiyapur Rescue Center in Haridwar district and its capacity has been reached, while there are three leopards in Ranibagh in Nainital district and only four can be kept there. He said that a large number of leopards are caught every year in different parts of the state and lakhs of rupees are spent on their maintenance. Caught man-eating leopards are usually sent to zoos or kept in temporary open enclosures under the supervision of forest workers. There is a lot of free space for leopards in rescue centers in other states and in view of this the idea of ​​sending leopards out of Uttarakhand came.
Also read- Country News | Uttarakhand lost five MLAs in three and a half years
He said that the Jamnagar Rescue Center in Gujarat has the capacity to keep 50 leopards while there are only four leopards. The forest officer said that six man-eating leopards would be sent to Jamnagar in the first phase after getting approval from the state government.
(This is an unedited and auto-generated story from a syndicated news feed, likely not modified or edited by the latest staff)
255 new cases of COVID-19 reported in Delhi, 23 patients died, restrictions further eased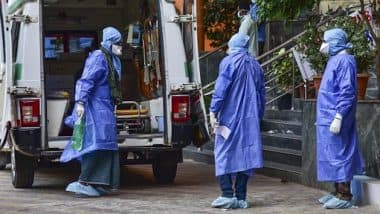 Corona Virus (Photo Credits: ANI)
New Delhi, June 13: The lowest number of 255 new cases of coronavirus were reported in the national capital on Sunday since April 7 and 23 patients died. Meanwhile, the Delhi government announced partial lifting of restrictions on restaurants and weekly markets from June 14. According to the bulletin of the Health Department, the infection rate of Kovid-19 here on Sunday was 0.35 percent. So far 14,31,139 cases of Kovid-19 have been reported in the city, out of which 24,823 patients have lost their lives. At the same time, more than 14 lakh patients were cured.
The lowest number of 213 new cases were reported in Delhi since March 9 on Saturday, 238 on Friday, 305 on Thursday and 337 on Wednesday. Due to this infection in the city, 28 people lost their lives on Saturday, 24 on Friday, 44 on Thursday and 36 on Wednesday. According to government data, the infection rate in the national capital was 0.3 on Saturday and Friday, 0.4 on Thursday and 0.5 percent on Wednesday. In Delhi, the infection rate had reached 36 percent in April, which has now come down to one percent.
Also read- Country News | Under the new scheme, 4.5 lakh people without ration cards got food grains: Delhi Government
The Delhi government allowed opening of restaurants with 50 per cent capacity from June 14 and only one weekly market in each zone. Officials said that the salons, beauty parlors and barber shops, which were closed since April 19, will also open from Monday. According to the order of Delhi Disaster Management Authority, schools, colleges, coaching institutes, cinema halls, multiplexes, theatres, gyms, spas, yoga institutes, swimming pools, auditoriums, wedding halls, water parks and public places and gardens are closed till 5 am on June 21. Will stay
Delhi was in the grip of the second wave of corona virus in the country and during this wave a large number of cases were reported daily, oxygen supply decreased and people's problems increased manifold. Since April 19, the daily cases of Kovid-19 and deaths due to this infection continued to increase rapidly and on April 20, the daily cases crossed 28000 and there were 277 deaths. On April 22 last, 306 people and on May 3, 445 people lost their lives due to this infection.
Also read- Dead body of elderly woman found in a house in Delhi, suspected of murder
For the last several days, the daily cases and infection rate are decreasing. On Saturday, 72,751 samples were tested for Kovid-19 here. The number of patients under treatment in the city is now 3,466. Their number on Saturday was 3,610.
(This is an unedited and auto-generated story from a syndicated news feed, likely not modified or edited by the latest staff)
Gujarat: After the relaxation in the lockdown by the state government, people were seen shopping in Surat, see picture
Gandhinagar, June 13: After the relaxation given in the lockdown by the state government in Gujarat, people were seen shopping in large numbers in the market of Surat. A shopkeeper said, 'Our shop does not enter without a mask. People are coming in large numbers. Business is doing well though not as much as before.
Gujarat: After the relaxation given in the lockdown by the state government, people were seen shopping in large numbers in the market of Surat.

A shopkeeper said, "Our shop is not entered without a mask. People are coming in large numbers. Business is doing well though not as much as before. pic.twitter.com/ic2QkGHmQ6

— ANI_HindiNews (@AHindinews) June 13, 2021
(With SocialLY get the latest breaking news, viral trends and all the news related to the world of social media. Here you will get live information about every content that is going viral on Twitter, Instagram and YouTube. The post shown above is unedited content, which can be sent directly to social media. Taken from the accounts of media users. Not modified or edited by Latestly staff. Social media posts do not represent the views and sentiments of Latestly, We assume no responsibility or liability for any content contained in this post do not accept.)