Assam: Chief Minister Himanta Biswa Sarma gave FD certificates, laptops to children orphaned due to Kovid-19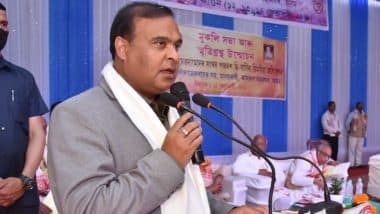 Himanta Biswa Sarma (Photo Credits: Twitter)
Guwahati: Assam Chief Minister Himanta Biswa Sarma on Thursday extended financial assistance to some children who lost their parents due to Kovid-19. Sarma told reporters that the Deputy Commissioners would make a list of such children in their respective districts for the implementation of the Shishu Seva Yojana. The Chief Minister provided assistance to 11 children before the start of the press conference here. Each child was given a certificate of fixed deposit (FD) of Rs 7,81,002, a laptop and a check of Rs 3,500 as financial assistance for the current month.
A press conference was organized to mark the completion of 30 days of Sarma's government. For the education and skill development of every child orphaned due to Kovid-19, his guardian will be given Rs 3,500 as monthly interest on FD. Sarma told that the fixed deposit is for 24 years and on completion of this period the principal amount will be deposited in the account of these children. Children who do not have a guardian will be kept in residential schools or institutions and the state government will bear their expenses. Also read: COVID-19 Updates: Record 6148 deaths in 24 hours in India, less than one lakh new cases for third consecutive day, infection rate less than 10%
The Chief Minister announced that the government has also decided to provide one-time financial assistance of Rs 2.5 lakh to those women whose husbands have died due to COVID-19. These women will also be eligible for 'Arunodoi' (Sunrise) scheme and pension scheme. 'Arunodoi' is a scheme launched to empower women financially.
All centrally protected monuments/sites and museums to be opened from June 16: Archaeological Survey of India
Protected monuments/sites and museums to be opened:
All Centrally protected monuments/sites and museums under ASI will be opened from 16th June: Archaeological Survey of India pic.twitter.com/Kig3w0AEEt

— ANI (@ANI) June 14, 2021
(With SocialLY get the latest breaking news, viral trends and all the news related to the world of social media. Here you will get live information about every content that is going viral on Twitter, Instagram and YouTube. The post shown above is unedited content, which can be sent directly to social media. Taken from the accounts of media users. Not modified or edited by Latestly staff. Social media posts do not represent the views and sentiments of Latestly, We assume no responsibility or liability for any content contained in this post do not accept.)
Inflation: Wholesale inflation hits record high of 12.94 per cent due to costlier fuel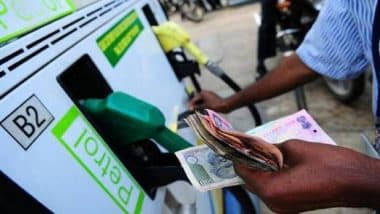 Representational Image | (Photo Credits: PTI)
New Delhi: Inflation based on wholesale prices rose to a record high of 12.94 per cent in May due to rise in prices of crude oil and manufactured goods. WPI inflation rose sharply in May 2021 due to the lower base effect. WPI inflation in May 2020 was negative 3.37 per cent. Petrol Diesel Price: Petrol reached beyond 100 in these states, know today's price in your cities
This is the fifth consecutive month that inflation based on the Wholesale Price Index (WPI) has increased. In April 2021, WPI inflation was in double digits to 10.49 percent. "The annual rate of inflation based on monthly WPI has increased to 12.94 per cent in May 2021 (as compared to May, 2020) from negative 3.37 per cent in May 2020," the commerce ministry said in a statement.
According to the statement, "The higher rate of inflation in May 2021 is mainly due to lower base effect and increase in the prices of petroleum products and manufactured products like petrol, diesel, naphtha, furnace oil etc. as compared to the corresponding month of last year. "
Inflation in fuel and power rose to 37.61 per cent during the period under review, from 20.94 per cent in April. Inflation in manufactured products stood at 10.83 per cent in May as against 9.01 per cent in the previous month.
Food inflation moderated marginally to 4.31 per cent in May. However, onions became expensive during this period. RBI in its monetary policy earlier this month kept interest rates at a record low and said it was committed to maintain a lenient policy to boost growth.
(This is an unedited and auto-generated story from a syndicated news feed, likely not modified or edited by the latest staff)
Revolt in LJP, Chirag Paswan's uncle Pashupati Kumar Paras was unanimously elected leader of the party parliamentary party in Lok Sabha
Pashupati Kumar Paras was unanimously elected as the leader of Lok Janshakti Party (LJP) parliamentary party in Lok Sabha.
Pashupati Kumar Paras unanimously elected as the Lok Janshakti Party (LJP) Parliamentary party leader in Lok Sabha; a meeting was held on 13th June.

(File photo) pic.twitter.com/2qNBAqiZhq

— ANI (@ANI) June 14, 2021
(With SocialLY get the latest breaking news, viral trends and all the news related to the world of social media. Here you will get live information about every content that is going viral on Twitter, Instagram and YouTube. The post shown above is unedited content, which can be sent directly to social media. Taken from the accounts of media users. Not modified or edited by Latestly staff. Social media posts do not represent the views and sentiments of Latestly, We assume no responsibility or liability for any content contained in this post do not accept.)