Arjun Kapoor breaks silence on sister Shanaya Kapoor's Bollywood debut, says- I don't want to give any tips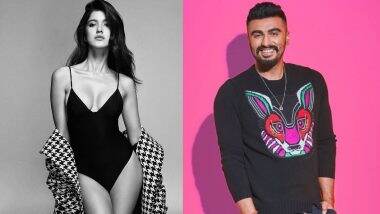 Shanaya Kapoor and Arjun Kapoor (Photo Credits: Instagram)
Shanaya Kapoor, daughter of Bollywood actor Sanjay Kapoor, is also going to debut in Bollywood. Shanaya is very active on social media and she keeps sharing her pictures every day. Which his fans also like very much. Recently, Shanaya shared many glamorous pictures on her social media. After seeing this, the discussions about his Bollywood debut have intensified. In such a situation, now Sanaya's cousin Arjun Kapoor has given a big statement about her Bollywood. Arjun said that he is not going to give any tips to Shanaya before entering the industry.
Arjun gave this statement in one of his interviews. When asked what he wants to say about Shanaya's debut in Bollywood? On this Arjun said that he is not going to give any tips to his sister. Because everyone has their own Johnny and everyone has the right to choose him. Currently Shanaya is working with very good people. Her parents are also very supportive I know knowingly unknowingly want to guide her if she asks me any question. Actually I want to see him making his own path, he should choose his own path.
Arjun further said in his interview that when I also did films in my initial phase, I also had feelings with all those films from different periods. I am sure Shanaya will also have to go through such a phase. I support him as a brother but he should enjoy his journey. Which he himself should choose.
Let us tell you that Shanaya will be the third girl of Kapoor family after Sonam and Janhvi who is going to try her luck in Bollywood. It is reported that Karan Johar is going to launch Shanaya and soon the shooting of this film will also start. However, more details about this film have not been revealed yet.
Aamir Khan expresses happiness on completion of 20 years of film Lagaan, shares special video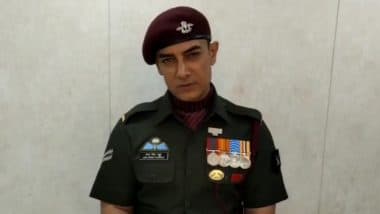 Aamir Khan (Image Credit: Instagram)
Aamir Khan's film Lagaan has completed 20 years today. This film proved to be a milestone in Indian cinema. Aamir took this film till the Oscar nomination. Even though the film could not win the Oscar award, but the film definitely won the hearts of Indians. This is the reason that today when the film has completed 20 years, everyone is seen celebrating their memories related to the film on social media. In such Aamir Khan He also thanked all the fans through a video message and shared his experiences of completing 20 years of Lagaan.
Actually Aamir is shooting for his film Lal Singh Chaddha these days. Taking time out from this shooting, Aamir gave a video message. In which he talked on the completion of 20 years of Lagaan and thanked the fans. Along with this, Aamir told that after finishing the work today, he will meet his entire Lagaan team through video conferencing and will share this happy moment with everyone.
By the way, Aamir's look is being made in this video, he is seen in the dress of the Indian Army. Actually Aamir's film Lal Singh Chaddha is a Hindi remake of Hollywood's cult film Forest Gum. This film was the flag car of success in Hollywood. Now Aamir wants to capitalize on that success through his film.
Ananya Panday got hot photoshoot done for Dabboo Ratnani's calendar, shared picture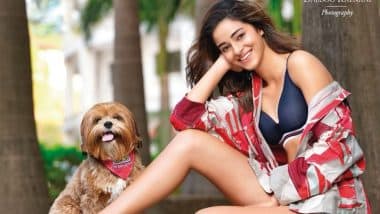 Ananya Pandey (Image Credit: Instagram)
Famous Bollywood photographer Daboo Ratnani has done a photoshoot with many stars for this year's calendar. In such a situation, Dabboo has also done a photoshoot with Ananya Panday. So at the same time, Ananya has also given fiercely hot poses for the calendar. A picture of which has also been posted by the actress on her social media. In which her beauty is being seen.
In the photo shared by Ananya Pandey, she is seen wearing a blue color sports bra. While seen in red color shirt and blue short. So sitting in front of the camera, Ananya's look is being made on seeing it. Whereas, this photo of Ananya has been liked by many people from Ishaan Khattar. This photo has got close to 4 lakh likes.
By the way, Ananya Pandey is very active on social media. She keeps sharing her glamorous pictures every day. Which his fans also like very much. While talking about the workfront, Ananya is going to be seen in the film Laiser in the coming time. this
Bollywood News Kirron Kher battling cancer, Anupam Kher and Sikander Kher appeared in a video on their birthday
Actor-turned-politician Kirron Kher on Monday 69birthday my husbandhandjob Celebrated with actor Anupam Kher and son Sikandar. Kiran, who is battling cancer, took to social media to thank fans and colleagues for their well wishes. expressing gratitudehandjob The actor shared a special message on the videohandjob Which Anupam Kher posted on his social media platform.
Kiran took to her fans to send her love.handjob Thanks to friends and followers. Kiran says with folded hands, "I want to say thank you very much. Thank you so much for all your well wishes and all your love and prayers."
Anupam Kher shared the video and captioned it: "Thank you all for your wonderful wishes on Kieron's birthday! Here she personally thanks all of you. Be victorious."
The actors' son Sikandar also shared a special video featuring him. they wrote, "he is here. looking stunning." Kiran said in the video, 'Sikander keeps messaging me. I am so happy that you keep remembering me and sending me so much love."
Kiran took to Twitter to thank Prime Minister Narendra Modi for sending her birthday wishes. wrote in his tweet, "PM for warm wishes on my birthday aranendramodi ghandjob Thanks a lot. I feel humble with folded hands @PMOIndia."
Kiran is currently undergoing treatment for cancer. Anupam revealed in April that he had multiple myeloma.handjob Which is a type of blood cancer. He said in a social media post, "Just because the rumors don't get betterhandjob Sikandar and I would like to inform everyone that Kiran has been diagnosed with Multiple Myeloma.handjob There is a type of blood cancer."
He later dismissed speculations about his health and said, "She is doing absolutely fine. actually this afternoon covid Got his second vaccination for " He also requested fans not to spread "negative news".
on the work fronthandjob them last 2014 movie of punjab 1984 was seen in that singh is kinghandjob devdashandjob Known for projects like Om Shanti Om. He is an MP from Chandigarh.