After the FIR against Tiger Shroff-Disha Patani, Mumbai Police took a jibe on Twitter, angry mom Ayesha Shroff gave this clarification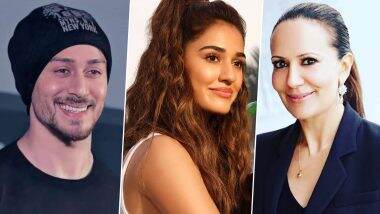 Tiger Shroff, Disha Patani and Ayesha Shroff (Photo Credits: Instagram)
An FIR has been registered by the Mumbai Police against Bollywood couple Tiger Shroff and Disha Patani for walking in Bandstand area of ​​Mumbai without any valid reason on June 2. Tiger and Disha have been booked under section 188 of the IPC for breaking the lockdown rules. In this case, where the Mumbai Police has taken a jibe at these two artists by tweeting on one hand, on the other hand, has appealed to Mumbaikars to follow the lockdown rules in their creative style.
Mumbai Police did not take the names of Tiger and Disha in their tweet but added the names of their films in a sarcastic tweet, writing, "In the ongoing war against the virus, two actors became heavy on the street of Bandra to become 'Malang' and they were under IPC section. A case has been registered at Bandra police station under sections 188 and 34. We request all Mumbaikars to refrain from doing unnecessary heropanti, which may lead to neglect of Kovid-19 safety.
In the ongoing 'War' against the virus, going 'Malang' on the streets of Bandra cost dearly to two actors who have been booked under sections 188, 34 by IPC

Bandra PStn . We request all Mumbaikars to avoid unnecessary 'Heropanti' which can compromise on safety against #COVID19

— Mumbai Police (@MumbaiPolice) June 3, 2021
Now Tiger Shroff's mom Ayesha Shroff has expressed her displeasure in this matter. A photographer had shared this news about Tiger and Disha, commenting on which he wrote, "First check your facts. He was going home and the police was checking the Aadhar card on the way. Time is not interested in walking unnecessarily. Before doing such things, check things out."
Also read: Mumbai Police registers FIR against Tiger Shroff, action taken for breaking lockdown rules
A user asked Ayesha, "Where were you going home? From where? Madam, he was out of the house and that's the big mistake. What if they are celebrities too. Law is one for all citizens." Responding to this, Ayesha wrote, "Your information is allowed to go out for important work. Why doesn't someone better write about how they are giving free to frontline workers in this pandemic than to humiliate someone like this." We're distributing our food!! Because they don't talk about it themselves! So don't judge anyone unless you know. Thank you."
Will Salman and Akshay be seen together in DHOOM 4? tweet went viral
Mumbai. Friends, let us tell you that the fans have liked all the three sequels of the film 'Dhoom'. For your information, let us tell you that John Abraham and Abhishek Bachchan were seen in the first part and Hrithik in the second part and Aamir Khan in the third. Friends Abhishek was in all three parts. Friends, now news has started coming about the fourth series as well. Fans also want to see the power packed charisma of Akshay Kumar and Dabang Khan in the next series. Recently, the posters of fans caught everyone's attention towards this. Friends Dabang Khan and Akshay's fans are tweeting fiercely.
Friends, let us tell you that the news of Akshay Kumar and Dabang Khan working in 'Dhoom 4' has started going viral on social media. In a poster shared by fans, Akshay is seen in full action. Apart from this, news also emerged that the actor met Aditya Chopra of Yash Raj Films regarding 'Dhoom 4'. The market for such news is hot.
Friends, let us tell you that some social media users are telling this as rumor and fake news while some people are excited about watching the action thriller. Friends, the film 'Dhoom', produced under the banner of Yash Raj Films, is the second biggest film franchise of Bollywood, which has set the flags of success at the box office.
.
Sunny Leone distributes food among the poor, people are praising it for the noble cause
Ananya Pandey took a stylish selfie, looked beautiful in open hair
Chunky Pandey's beloved daughter Ananya Pandey started her acting career in Bollywood with the film Student of the Year 2 and till now she has appeared in many films such as Pati Patni and Woh Khali Peeli.
Apart from this, soon Ananya Pandey will be seen in a big film with Vijay Deverakonda, which we are eagerly waiting for and this film is going to be full of action and adventure.
Along with her acting career, Ananya Pandey also keeps on spending time on social media, recently she has shared some pictures in which she is seen taking selfie and she is looking very beautiful in open hair which you can see in these. You can see in the pictures.
.