Actress Raashi Khanna joins hands with Roti Bank in COVID-19 pandemic, will give food to the needy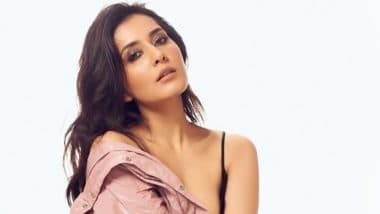 RAASHI KHANNA ( photo credit Instagram)
India is currently going through a very bad health crisis. In the coming days, Kovid 19 (COVID-19) is bringing new problems. In such difficult times, it is necessary that we all go ahead and try to help the needy in every possible way. In such a situation, the actress will help the poor families on whom this epidemic has left a deep impact due to the lockdown. Rashi is actively working to help the needy people in this hour of crisis. Under Rashi's initiative #BeTheMiracle, we are working to deliver food to the needy. She is working tirelessly to help those who have lost their livelihood in this time of covid.
Rashi is engaged in serving this noble cause silently without informing anyone. In such a situation, she has agreed to disclose this at the behest of her family and friends so that kind people with common mindedness come forward to be a part of this initiative and serve the needy. Along with #BeTheMiracle, Rashi is associated with organizations and volunteers like Roti Bank who are helping animals that were left without food or water, especially during the lockdown. Also, they are ready to serve some old age homes. After working in this field, he realized that donation from friends and family is not enough, it is like a drop of water in the ocean. His team has documented a video depicting the current reality which it is hoped will encourage people to come forward and help. Also read: Delhi: BJP MLA Suvendu Adhikari meets Home Minister Amit Shah, discusses violence in West Bengal
Regarding this initiative, Rashi Khanna believes, "The condition of the people suffering from the pandemic is heartbreaking. Through #BeTheMiracle, I am trying to help people in every possible way. I am fortunate to have such a team. I have got the support of those who are so brave, that even in this pandemic, they are coming out of the house and bringing out the problems of the people. Many families are on the verge of starvation who are going through really bad times. I want that People donate generously, every straw matters. It doesn't have to be an exorbitant amount. We should realize that we are all in this together and it is only by being together that we can overcome this difficult time. And together we can bring miracles to anyone's life."
Shekhar Suman's mother passed away, actor said – feeling devastated and orphaned
Mumbai. Friends, let us tell you that a mountain of sorrows has broken on Bollywood actor Shekhar Suman. Shekhar Suman's mother has said goodbye to this world, Shekhar Suman himself has given information about this sad news on social media. Social media users have been consoling the actor ever since the news surfaced.
My dear ♥ Mother whom I loved the most in this world has left for her heavenly abode today. I feel orphaned and devastated. Thank you mom for being there for all of us all the time. I will miss you till my last breath.
Thank you for all your prayers and blessings???? — Shekhar Suman (@shekharsuman7) June 18, 2021
Friends, sometime back, Shekhar Suman shared this sad news with everyone by tweeting. Shekhar wrote in his tweet, 'My dear mother, whom I loved the most in this world, passed away the previous day. I feel devastated and orphaned. She was always there for us. I will remember you till my last breath, thank you for your blessings.
According to the news, let us tell you that Shekhar Suman's mother was suffering from kidney disease for a long time. Along with this, his condition was also very critical for the last few days. Friends, along with Shekhar, Adhyayan Suman was also constantly sharing his pictures and videos on social media. Adhyayan Suman had also made an emotional post on social media.
.
See the bold avatar of TV's cultured daughter-in-law, she is stylish in real life
You must have never seen this hot style of Sridevi's beloved, see photos