35 tasks related to Aadhar card will be dealt with only one app, download mAadhaar from here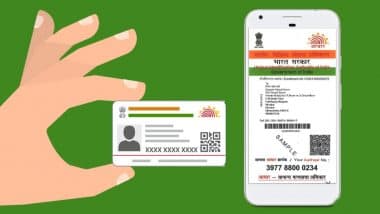 Aadhar Card (Photo Credits: Twitter/File)
New Delhi: The Unique Identification Authority of India (UIDAI) has told an important thing on Monday for the convenience of crores of Aadhaar card holders of the country. According to this, a person holding Aadhar card, even if he is a smartphone user, can now avail more than 35 services in one click. Saurabh Garg appointed CEO of UIDAI
According to the UIDAI (Unique Identification Authority of India), the facilities included in the 35 Aadhaar services include Aadhaar card download, Aadhaar card status check, Aadhaar card reprint, etc. These services are available online and will require internet in the smartphone.
In its latest tweet, UIDAI said that a person has to first download the mAadhaar app on their smartphone to avail these facilities. UIDAI said, "Get more than 35 Aadhaar services on your smartphone. Like Download Aadhaar, Check Status, Get Aadhaar Reprinted, Locate Aadhaar Center." UIDAI aims to reach out to a large number of smartphone users through the mAadhaar app.
Get over 35 Aadhaar services like download Aadhaar, status check, order Aadhaar reprint, locate Aadhaar Kendra etc. on your smartphone. Download the #mAadhaarApp from: https://t.co/62MEOeR7Ff (Android) https://t.co/GkwPFzuxPQ (iOS) pic.twitter.com/A5XA44qXtB

— Aadhaar (@UIDAI) June 7, 2021
UIDAI has also shared the link to download the m-Aadhaar app. Interested individuals can download the mAadhaar app from Google Play Store and Apple App Store at the following link: For Android users click on the link- tinyurl.com/yx32kkeq while iPhone users can click on this link to download mAadhaar app on their smartphones Can click: https://tinyurl.com/taj87tg.
mAadhaar users can avail the featured services for themselves and other needy. The m-Aadhaar app has a slew of Aadhar card related services for smartphone users. In this app, the Aadhar card holder can also store a soft copy of his Aadhar, which can be useful to you in many places.
Karnataka: Corona infection slowed down, patients recovering fast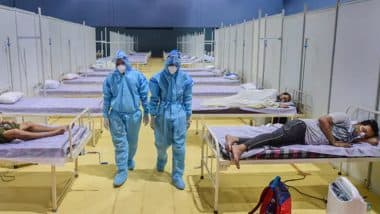 Kovid Ward (Photo Credits: PTI)
Bengaluru, June 13 : In Karnataka, the havoc of Corona seems to be decreasing rapidly. For the past few days, the number of people getting healthy has increased in comparison to new cases in the state. A total of 19785 new cases were registered in the state on Saturday while 21614 people returned home after recovering. In the last 24 hours, 144 patients died due to infection. The state health bulletin said that 9,785 cases were registered on Saturday. The number of corona victims in the state increased to 27,57,324, including 1,91,796 active cases, while 25,32,719 people have recovered. 21,614 patients were discharged in the last day.
With Bengaluru as the main epicenter of the pandemic in the state, 2454 fresh cases were reported. In this way, the total number of infected people here increased to 11, 95, 340. Out of this, 88,795 are active cases while 10,91,260 have been recovered. In the last 24 hours, 5,398 patients were discharged. The virus killed 144 people in the last 24 hours, including 21 in Bengaluru. The number of people living in the state has increased to 32,788 and the death toll in the city has gone up to 15,284. Also read: COVID-19 Update Assam: 3,463 new cases of Kovid-19 in Assam, 42 patients died
Out of 1,48,02 tests conducted across the state during the day, 26,999 include rapid antigen detection and 1,21,028 RT-PCR. Meanwhile, 64,681 people above 45 years and 88,323 people in the age group of 18-44 years were vaccinated across the state during the day. In this way, a total of 1,58,572 people were vaccinated in the state during the day.
COVID-19 Update Assam: 3,463 new cases of Kovid-19 in Assam, 42 patients died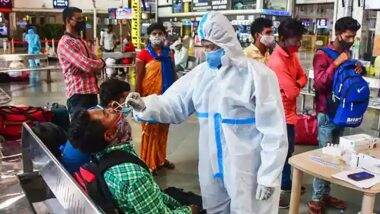 Person getting tested for Corona (Photo credit: PTI)
Guwahati, June 13 : After 3,463 new cases of Kovid-19 were reported in Assam on Saturday, the total number of infected people increased to 4,57,330 while the death toll increased to 3,915 due to the death of 42 more patients. The National Health Mission (NHM) of Assam gave this information.
The number of patients under treatment for Kovid-19 (COVID-19) in the state has increased to 43,298. In Assam, 5,600 patients have become infection free in the last 24 hours. So far, 4,08,770 people have defeated the infection of this deadly virus in the state. Also read: Corona curfew extended till June 21 in Goa to save from rising cases of COVID-19
The infection rate has gone up to 3.66 percent. According to NHM, 47,51,926 doses of anti-Covid vaccine have been given in the state so far.
Ambala: Police and excise team recovered illegal liquor, DSP said – from where these 2 trucks have been brought, it will be investigated
Ambala: Police and excise team recovered illegal liquor, DSP said – from where these 2 trucks have been brought, it will be investigated-
Haryana | Ambala police and excise department seized two trucks loaded with illicit liquor in Mandour village yesterday

"Probe is underway," says police. No arrest has been made so far. pic.twitter.com/e9GYBlTDec

— ANI (@ANI) June 13, 2021
(With SocialLY get the latest breaking news, viral trends and all the news related to the world of social media. Here you will get live information about every content that is going viral on Twitter, Instagram and YouTube. The post shown above is unedited content, which can be sent directly to social media. Taken from the accounts of media users. Not modified or edited by Latestly staff. Social media posts do not represent the views and sentiments of Latestly, We assume no responsibility or liability for any content contained in this post do not accept.)