3 million doses of Sputnik V vaccine arrived from Russia to Hyderabad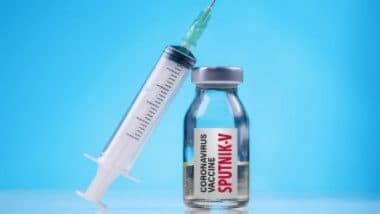 Photo Credits: File Image
Hyderabad, June 1: A consignment of 30 lakh doses of Russian-made Kovid-19 anti-vaccine Sputnik V was brought by special charter aircraft to the Rajiv Gandhi International Airport in Hyderabad here on Tuesday. According to a press release issued by GMR Hyderabad Air Cargo (GHAC), 30 lakh doses of Sputnik V vaccine arrived here from Russia via special charter aircraft RU-9450 at 3.43 am on Tuesday.
GHAC has already managed to import large consignments of vaccines earlier, but the vaccine weighing 56.6 tonnes is the largest consignment ever imported into India. The entire process of unloading the consignment of the vaccine took less than 90 minutes. Specialization is required for storage of Sputnik V vaccines. It is kept at a temperature of minus 20 degrees Celsius.
Also read- News of the country. Delhi will probably get Sputnik V vaccine in June: Kejriwal
Significantly, Dr. Reddy's laboratory has tied up with Russian Direct Investment Fund to sell 12.5 crore doses of Sputnik V vaccine in India. Dr. Reddy's laboratory has already been approved by the Drug Controller General of India for emergency use of Sputnik V vaccine.
(This is an unedited and auto-generated story from a syndicated news feed, there is a possibility that it has not been changed or edited by the latest staff)
Petrol, Diesel Prices Today: Petrol-Diesel prices increase again today, know the new rate of your city
This is the 29th hike in vehicle fuel prices since May 4. Petrol prices in Delhi stood at Rs 97.50 per liter and diesel at Rs 88.23 per liter with no change in fuel prices on Wednesday. Union Petroleum Minister Dharmendra Pradhan alleged that the current hike in the prices of petrol and diesel is a result of the policies of the previous UPA government. At the same time, former Congress President Rahul Gandhi took a jibe at the government on Tuesday over the increase in the prices of petrol and diesel, saying that now the prices of petroleum products will be reduced during the next elections. On the other hand, fuel retail prices in India are expected to firm up in the coming days due to rising global crude oil prices and declining inventory of the world's largest fuel consumer – the US.
The price of petrol & diesel in Delhi is at Rs 97.76 per liter and Rs 88.30 per liter respectively today

Petrol & diesel prices per liter – Rs 103.89 & Rs 95.79 in #mumbai, Rs 98.88 & 92.89 in #Chennai, Rs 97.63 & Rs 91.15 in #Kolkata pic.twitter.com/AWwAtGL2MX

— ANI (@ANI) June 24, 2021
(With SocialLY get the latest breaking news, viral trends and all the news related to the world of social media. Here you will get live information about every content that is going viral on Twitter, Instagram and YouTube. The post shown above is unedited content, which can be sent directly to social media. Taken from the accounts of media users. Not modified or edited by Latestly staff. Social media posts do not represent the views and sentiments of Latestly, We assume no responsibility or liability for any content contained in this post do not accept.)
Jharkhand: Jharkhand will get 4,630 oxygen concentrators under PM-Cares fund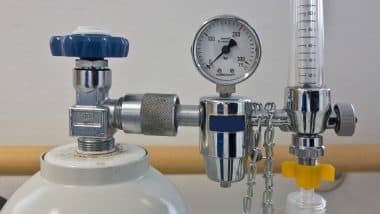 Medical Oxygen (Photo Credits: Pixabay)
Ranchi, June 24 : After the decrease in the cases of second wave of corona virus in Jharkhand, the state government has started preparations to deal with the third wave. Under the PM-Cares fund, 4,630 oxygen concentrators will be available. In the second wave, oxygen crisis was a major issue, so this time adequate attention has been paid to arranging oxygen, under which 38 PSA plants will be set up in Jharkhand. Apart from this, the state will get 4,630 oxygen concentrators.
Apart from Sadar Hospitals of all districts, these oxygen concentrators will also be used in CHCs, PHCs and health sub-centres, for which nodal officers will be appointed from block level to state level. A health department official said that the center is also providing training so that the machines can be used properly. Also read: Mukhyamantri Pashudhan Yojna: Chief Minister should ensure 100% implementation of livestock scheme – Agriculture Secretary
The Center has developed the Oxygen Concentrator Management Information System (DOUTKAR). The concerned nodal officer will have to update the daily information on the portal and it will also be the responsibility of the officer to make arrangements for electricity and other requirements. In Jharkhand, 38 PSA plants will also be set up under the PM-CARES Fund and it is expected that all the plants will be commissioned in the next two months. Two technical persons will be appointed in each of these plants, along with a nodal officer will also be deputed and he will be responsible for complete coordination.
Bihar: Woman told police, 'Tantric raped me in dream'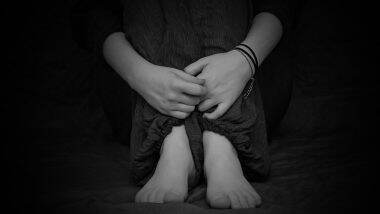 Symbolic Image (Photo Credits: File Photo)
Patna, 24 : A woman from Aurangabad district of Bihar has filed a complaint with the local police alleging that a tantrik raped her repeatedly in her dream. The woman, a resident of Gandhi Maidan area of ​​Kudva police station, had contacted tantrik Prashant Chaturvedi in January this year, as her son was seriously ill. At the behest of the tantrik, the woman had done the ritual process of tantra-mantra for the recovery of her son, but her son died after 15 days.
Kudva police station SHO Anjani Kumar said, after the death of her son, the woman went to the Kali Bari temple, where Chaturvedi lives, and asked her to explain how her son died. The woman alleged that Chaturvedi tried to rape her, but her son 'saved' her. He said that at that time the woman had not complained to the police. She further alleged that Chaturvedi has been coming in her dreams since then and repeatedly raping her. Also read: Big statement of Union Minister Santosh Gangwar, women can now work even at night
The SHO said, since we had received a written complaint against Chaturvedi, we interrogated him. Chaturvedi denied knowing the complainant and said that he had never met her. Since we do not have any evidence against Chaturvedi, we released him after filing the bond.