12-15 year olds will get vaccinated in UK, Pfizer-BioNTech's vaccine approved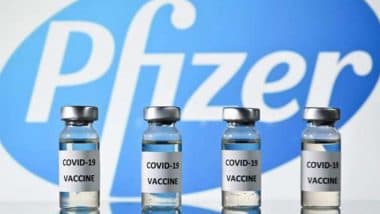 Pfizer Vaccine (Photo Credits: Wikimedia Commons)
London: Britain's drug regulator on Friday approved Pfizer-BioNTech's anti-Covid-19 vaccine for adolescents aged 12 to 15 years. The Drugs and Healthcare Products Regulatory Agency (MHRA) has said that after a "deep review" of safety and efficacy in younger age groups, it has been decided that the benefits of the vaccine outweigh any risks. Huh. Until now the vaccine was approved in the UK for adults aged 16 or over.
Dr June Raine, Chief Executive Officer, MHRA, said, "We carefully reviewed data from clinical trials of the vaccine on children aged 12 to 15 years and came to the conclusion that Pfizer-BioNtech's anti-Covid-19 vaccine is suitable for this age group. It is safe and effective and the benefits outweigh any risks.
"There is a comprehensive safety monitoring strategy for all vaccines approved in the UK, and the 12-15 age group will also be involved in this monitoring," he said. Permission will not be granted without meeting the requisite standards regarding safety, quality and effectiveness. The MHRA said that the Joint Committee on Immunization (JCVI) will now decide whether vaccines will be given to this age group or not. The regulator said that no new side effects have been seen from the vaccine.
Professor Peermohammed, chairman of Britain's Commission on Human Medicine (CHM), said that more than 2,000 children aged 12-15 years took part in the experimental trial. A spokesman for the Department of Health and Social Care said that now the JCVI will advise on whether to include children aged 12 to 17 years in the immunization programme. The Pfizer-BioNTech vaccine was approved in the UK in December 2020 for adolescents aged 16 and 17.
(This is an unedited and auto-generated story from a syndicated news feed, likely not modified or edited by the latest staff)
Coronavirus Pandemic: Global cases of corona increased to 17.69 crores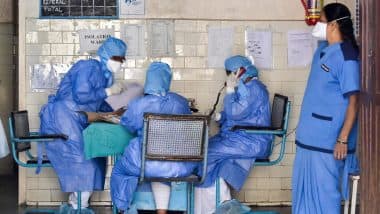 Corona Ward (Photo Credits: PTI)
Washington, June 17 : The global cases of corona have increased to 17.69 crores. At the same time, the death toll from this epidemic has increased to 38.3 lakh. Johns Hopkins University gave this information. In its latest update on Thursday morning, the University's Center for Systems Science and Engineering (CSSE) revealed that the current global corona cases and death toll have risen to 176,960,993 and 3,830,127 respectively.
According to the CSSE, the US remains the most affected country with the world's highest number of cases and deaths at 33,498,145 and 600,648 respectively. India ranks second in terms of infection with 33,498,145 cases. The other worst-hit countries with more than 3 million cases are Brazil (17,628,588), France (5,809,319), Turkey (5,348,249), Russia (4,605,805), UK (4,605,805), Italy (5,189,260), Argentina (4,198,620), Colombia (3,829,879), Spain (3,749,031), Germany (3,726,767) and Iran (3,060,135). Also read: Monsoon Alert: Heavy rain forecast in Mumbai, Thane and Palghar in next 3 hours
In terms of deaths, Brazil is second with 493,693 deaths. More than 100,000 people have died in India (379,573), Mexico (230,624), UK (128,190), Italy (127,153), Russia (125,443) and France (110,740).
UPDATE: Death toll in Nepal floods rises to 7, many still feared missing
Kathmandu, June 16: The death toll in the floods in Sindhupalchok district in central Nepal has risen to seven. Apart from this, there is still a possibility of missing many people. It is being told that the flood has originated from the main source of the Melmachi and Indravati rivers.
#UPDATE | Nepal: Death toll rises to 7 and many feared missing as flood continues to wreak havok in Sindhupalchok district.

(Latest visuals) pic.twitter.com/XNT4IxCBz9

— ANI (@ANI) June 16, 2021
(With SocialLY get the latest breaking news, viral trends and all the news related to the world of social media. Here you will get live information about every content that is going viral on Twitter, Instagram and YouTube. The post shown above is unedited content, which can be sent directly to social media. Taken from the accounts of media users. Not modified or edited by Latestly staff. Social media posts do not represent the views and sentiments of Latestly, We assume no responsibility or liability for any content contained in this post do not accept.)
Kim Jong Un lost weight, health related speculation got wind again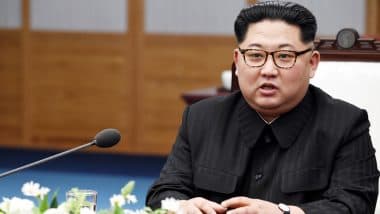 Kim Jong-un (Photo Credits: Getty Images)
In countries such as South Korea, the US and Japan, Kim's health is the subject of discussion and often attempts are made to find answers to questions such as whether Kim has gained more weight, is she short of breath while walking, Why does he have sticks, why did he not attend important government programs etc. The thirty-seven-year-old leader is once again in discussion about his health, but this time his weight has not increased, but has reduced significantly. From the pictures of Kim recently released on social media, it seems that she has lost a lot of weight.
His watch is already loose and his face looks slim. Some analysts say that the 5-foot-eight-inch tall Kim weighed 140 kilograms earlier and now her weight has probably reduced by 10 to 20 kilograms. Hong Min, a senior analyst at the Korea Institute for National Unification in Seoul, said Kim's weight loss appeared to be an attempt to improve her health rather than a sign of illness. Many members of Kim's family, who drink heavily and smoke, have been suffering from cardiovascular diseases. His father and grandfather died due to cardiac problems. Experts have said that Kim's overweight can increase the risk of heart diseases. Also read: LJP leader Chirag Paswan wrote a letter to the speaker, saying – The decision to declare Pashupati Paras as the leader of LJP in the Lok Sabha is contrary to the provision of our party's constitution
Seo Yu-seok of the Seoul-based Institute of North Korean Studies said that North Korea had recently created the first secretary position of the ruling Workers' Party, which would be second only to Kim in the country and the post is related to Kim. potential health problems. He said that Kim may have allowed the establishment of the post at the request of top officials, but still he has not nominated anyone, as it could loosen his grip on power.